MAN VS MACHINE
THE PAINTINGS

​Oil on canvas
140 x 140 cm/55 x 55 inches
2 NFC tags embedded into each painting with bonus digital content for the owners of the physicals
Augmented reality linking each physical to it's 1/1 NFT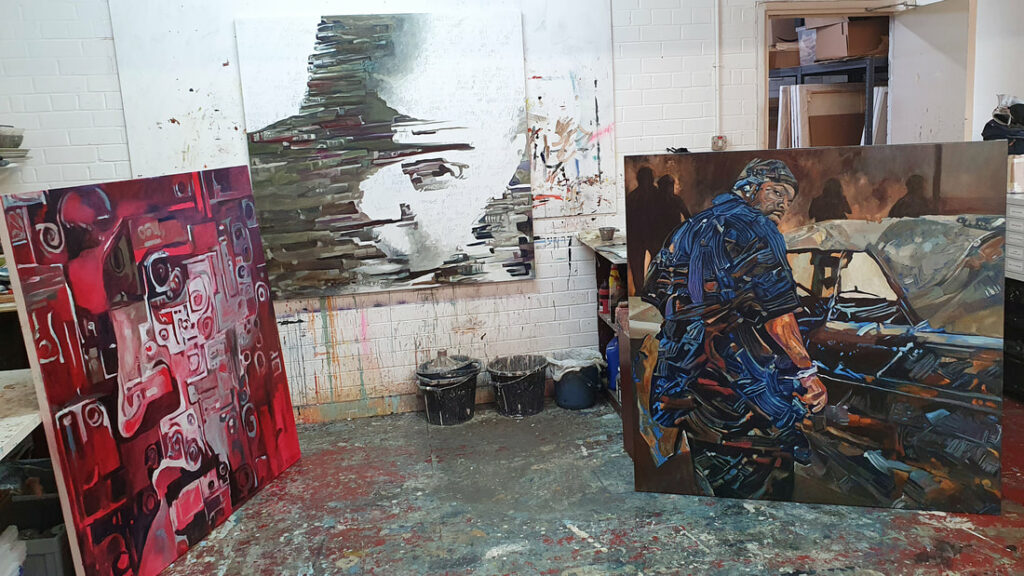 ---
5 MINUTE OPEN EDITION:
DON'T SAY SH*T
The 23 second animation 'Don't Say Sh*t' is an open edition NFT and will be available only to collectors who have a Trevor Jones nifty in their Nifty Gateway wallet.

These include any NFT from the drops:
The Bitcoin Bull
From Palette To Canvas: A Retrospective
The Bitcoin Angel Open Edition​​
Pak Collision collab
---
Click each painting to access the music and art
​​
​The square format decided on for the paintings was inspired by old school album covers
In this collaborative body of work painter Trevor Jones and rapper Ice Cube have combined their creative abilities to explore and highlight a variety of compelling subjects and concepts. Beginning seven months ago this fusion of painting, music, animation, and other forms of tech innovation have developed into a series of distinctly unique NFTs and physical works of art.

Continuing to explore traditional artistic practice enhanced with technology Jones has created four large scale oil paintings, which have then been digitally deconstructed and transformed into animated portraits of Ice Cube. Each artwork offers a different insight into the rapper's background and identity while Cube has written and recorded four exclusive pieces to accompany each portrait to resonate with and further amplify the themes underpinning the artworks.
Although distinct in their creative capacities both artists recognize this collaboration as an opportunity to address contemporary issues such as social inequality and the abuse of authority especially with regards to the control and manipulation of people through various technologies and social media. The collaboration and artwork also aim to draw attention to the individual – the life decisions one makes and the potential positive or negative consequences of these choices.

Permeating the entire body of work is the machine-driven pulse of technology with both the paintings and the animations utilising Artificial Intelligence to generate and inspire the final images and animations. The strength of the art is intensified by the fact that the technology used to create the work serves not only as a practical tool but also as a part of the concept in its own right. Moreover, all four paintings incorporate augmented reality and NFC tags to bring the traditional artworks to life through the NFT animations and bonus video content.
Although the parameters and image instructions are manually set for the AI, from a creative perspective it's algorithms ultimately produce unpredictable results. This aspect reflects the tangible 'happy accidents' that many painters experience through the use of paint, but this unpredictability also serves as something of a cautionary note and one that resonated with both artists during their discussions regarding the creative direction of the collaboration.In Ridley Scott's 'Blade Runner' the film's central character regards humanity's relationship with technology in a positive and negative manner opining that the synthetic humans known as replicants are "like any other machine, they're either a benefit or a hazard". However, the use of technology in the production of these new artworks would suggest that our ever-increasing relationship with technology is far more ambiguous than Deckard's black and white appraisal. The line between benefit and hazard can be quite indistinguishable and the indifference of technology can make it a benefit and a hazard, simultaneously.
This factor holds a particular fascination for both Trevor Jones and Ice Cube with both artists observing and experiencing the ongoing benefits and hazards of technology as well as the disquieting potential for all manner of innovative technologies to be abused by governments, the police, the media, and those seeking to exert greater control and influence over societies and populations. In these digital portraits Jones effectively hijacks technology to produce a nemesis to such implications transforming Ice Cube into a voice of resistance against those who would abuse their authority and positions of trust.
---
AI EXPERIMENTS AND W.I.P PHOTOS ETC…