Brian Cox Augmented Reality Portrait Painting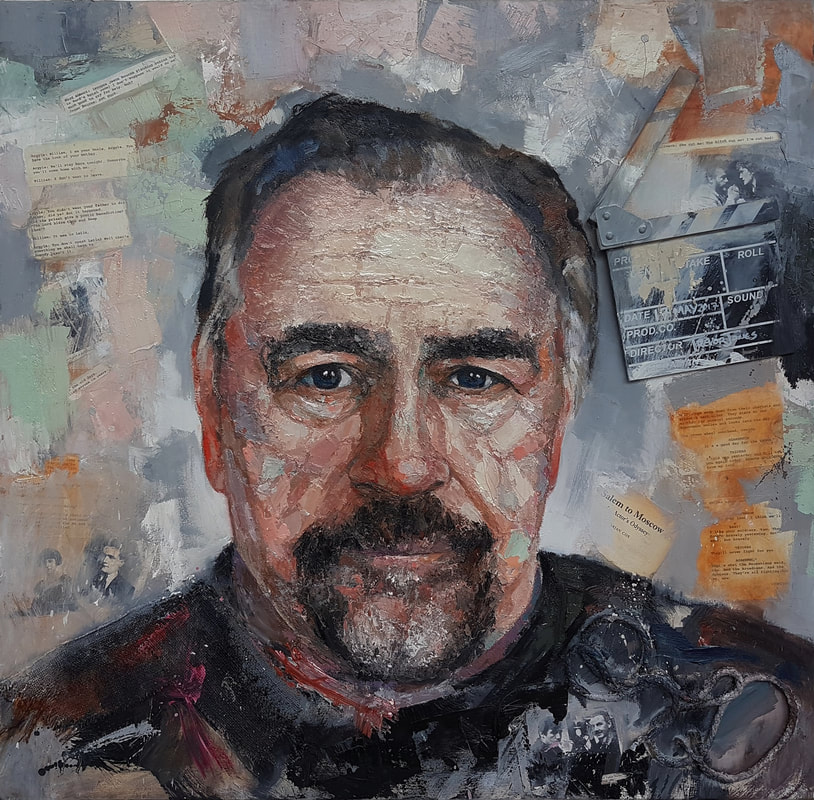 When I first met Brian to begin my preparatory work for my portrait of him two things especially stood out to me.
Brian is an extraordinarily interesting, articulate, open and honest person. Throughout the afternoon we chatted about his growing up in Fife, family challenges, adversity and suffering, getting into acting, his fear of poverty, and much more
Brian is non-stop and always on the go! The number of phone calls he received during our meeting was incredible.
I decided to bring these two elements of the afternoon together to develop the AR video of the portrait and to provide viewers of the painting with a more in-depth understanding and appreciation of the sitter as well as to offer a little more insight into my time with him.
---
The Portrait

​I've attached and collaged various meaningful objects into the painting including a clapper board (if you look closely you can see I've signed the painting next to 'Director'), some of Brian's famous movie quotes, jute cloth and rope, old photographs of Dundee and some more personal photos of Brian's parents and one of him with his friend and mentor Fulton Mackay (under the rope).
Other innovative features of this painting are the near field communication (NFC) tags embedded around the objects and photos. Viewers can hover their smartphone near to each tag to engage more video content of Brian. During our meeting Brian recounted an entertaining story about a conversation he had with Fulton Mackay and this video clip will be accessible via a smartphone and the NFC tag under that particular photograph.
This is a unique painting in that it is not only a painterly representation of the actor but with the physical pieces added it helps to build an even more complete picture of the person. Moreover, the technological elements bring the portrait to life like no other painting before it. View more of my 'celeb' portrait paintings here
---
---