The Bitcoin Angel
From Palette To Canvas
A TREVOR JONES RETROSPECTIVE ON NIFTY GATEWAY
​24 FEB 2021 (The drop is now over. Thanks to everyone who took part and supported my work.)
---
THE OPEN EDITION
There are fourteen 1 of 1 artworks spanning the last 10 years of my art career plus my 2020 Bitcoin Bull palette to be auctioned in this Nifty Gateway drop and the winner of each 1/1 NFT will receive the original painting. 🎨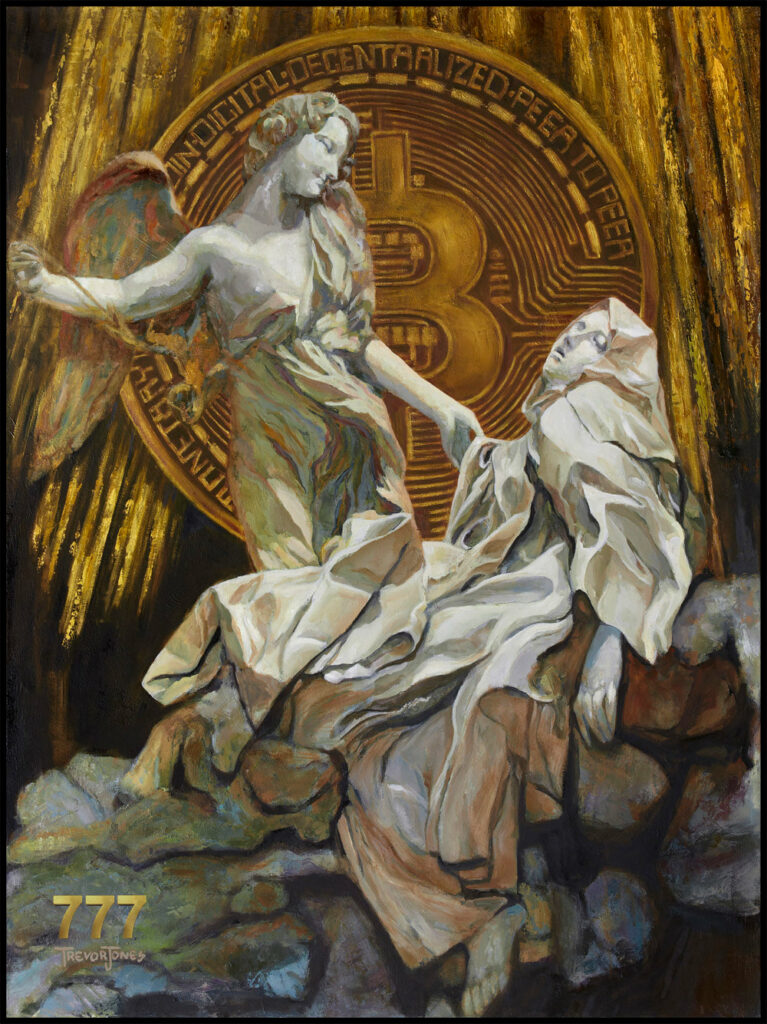 There will also be one open edition, 'The​ Bitcoin Angel', which has a thin black border around and a 777 above my signature bottom left to differentiate it from the unframed 1/1 and painting package.

This will be a $777 open edition for 7 minutes. I chose #7 in this way as seven is considered a heavenly number, it's mentioned numerous times in scriptures, and it represents the Bitcoin Angel wonderfully.

However, there is a twist to make this drop more interesting. Everyone who purchases the $777 open edition will be entered to win a 1/1 NFT of my Conor McGregor portrait. Purchase 2 open editions and you're entered to win twice etc.

Moreover, the collectors who purchase one of the fifteen 1/1 NFT & physical painting packages will be entered into a draw to win the original Conor McGregor oil painting (90 x 76 cm/35 x 30 inches). Again, one entry for every NFT/physical painting purchased – those are a lot better odds than the national lottery!
I've been thinking about giving away my Conor McGregor portrait for a little while and this exhibition seemed like the perfect opportunity. It also made sense to keep physical with physical and digital with digital for the giveaway, which is why the McGregor NFT will be up for grabs for those who purchase the open edition and the physical portrait painting will be given to a collector of one my retrospective physical paintings.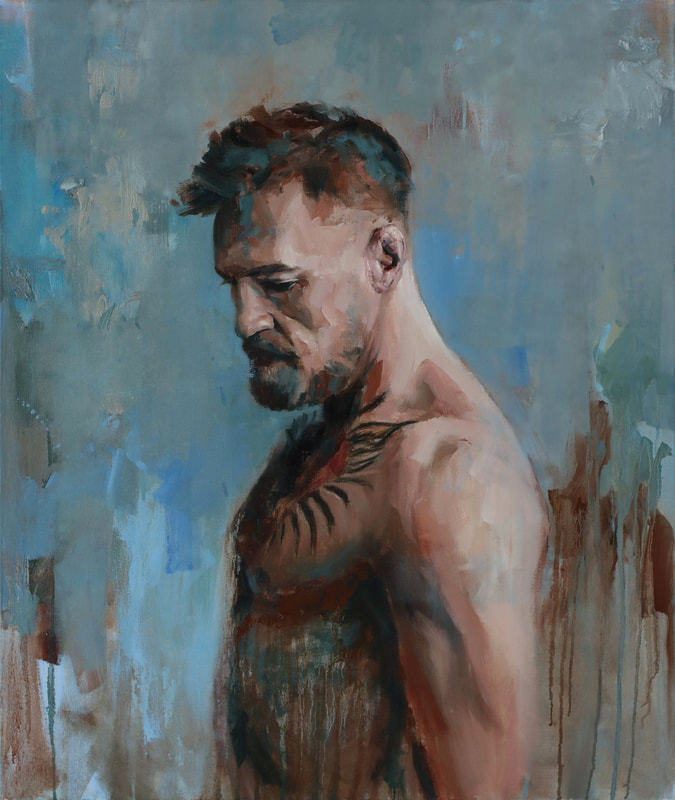 ---
One final twist – everyone who has an open edition Bitcoin Angel in their wallet when Bitcoin hits $77,777 will be entered into a draw to have a portrait drawn of them or a loved one by me (1/1 NFT included). One angel = one entry. Purchase 2 open editions and you're entered to win twice etc.
Here is a recent commission I finished for Bill Hare, Edinburgh University lecturer and Scotland's top art historian. Note: I won't be taking on any more commissions until 2022 so this commission prize is a very unique opportunity.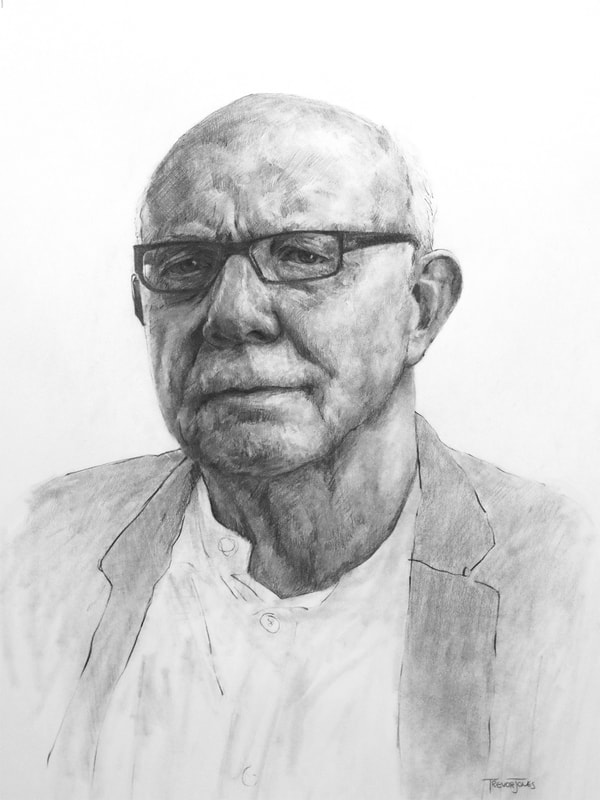 ---
Note: This Bitcoin Angel NFT relates to the painting image and not The Ecstasy animation, which is an entirely different work of art and was purchased on SuperRare last year. I've written more below about artwork editions and variations of (physical prints, NFTs, book covers etc) and how these in fact benefit those who own the original or a limited edition piece.
ADDING VALUE
With the physical paintings and 1/1 NFT packages likely being out of the price range of many art collectors, I wanted to offer the opportunity for more people in this fast growing space to be able to own and enjoy one of my artworks – especially one as important as the Bitcoin Angel.

It's also common knowledge that the more ubiquitous an art image becomes the more value it brings to the owners of the original or limited editions. A good example of this is 'The Singing Butler' by one of Scotland's most well-known artists, Jack Vettriano.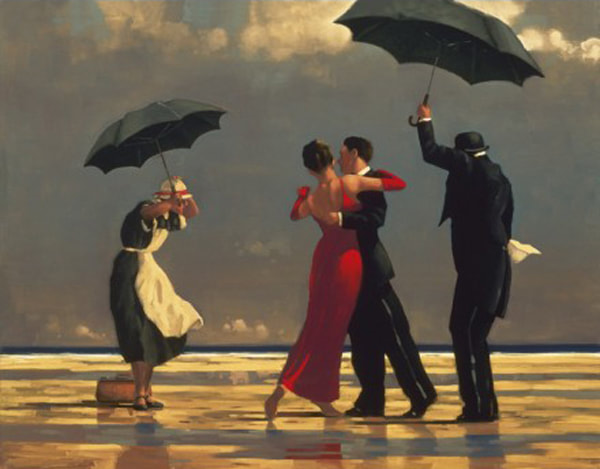 In 1991 Vettriano painted 'The Singing Butler and it sold in a gallery for £3,000. Soon after the sale Jack began producing two sizes of signed and numbered, limited editions of the artwork along with unsigned, unlimited editions sold through an international publishing house. Within a few years the artwork became one of the most purchased posters/prints of the decade. Tens of thousands of the works were being sold annually around the world making Vettriano Scotland's most successful artist, even though as a self taught painter he was often ridiculed by the art establishment. Jack had the last laugh though when the original painting sold in 2004 for over one million dollars, at the time making it the most expensive painting ever by a living artist in Scotland.
Was this record breaking sale due to Vettriano being one of Scotland's most talented and gifted painters? Not at all. As mentioned, he was self taught and had even been rejected from art college. Was the success of this artwork due to the painting being a truly relevant and meaningful work of Scottish art? Again, no.
The high value of this work, which is now etched into Scottish art history is based on the fact that for whatever reason it hit a zeitgeist around the world, and everyone wanted the poster on their wall, the image on a coffee mug, a Singing Butler calendar and so on. The record breaking sale was achieved entirely because the artwork was sold in masses and it became instantly recognisable throughout Scotland and internationally.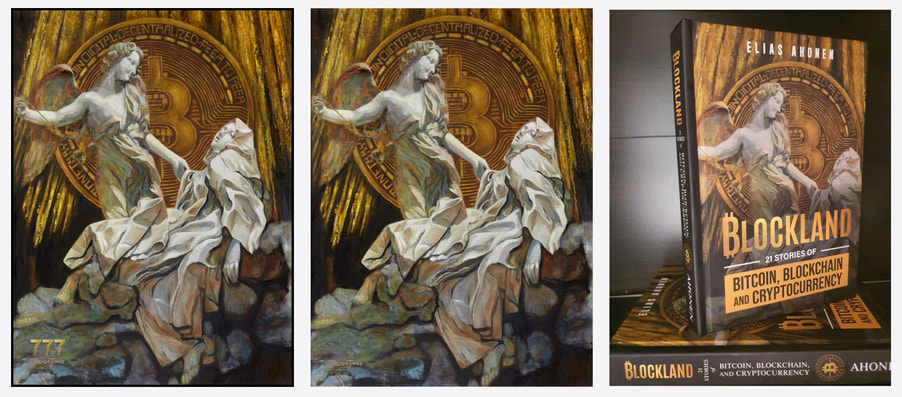 My goal is to achieve a similar level of image recognition of my artwork as Vettriano has with his paintings and I believe pieces like my Bitcoin Bull and Bitcoin Angel have this potential. As the NFT art space accelerates and Bitcoin continues to rise in value the legacy art world will eventually sit up and takes notice. Once this happens, I do believe these paintings will be recognisable outside of the NFT art space and internationally.