Crypto Disruption
THE BACKSTORY
Bitcoin truly hit mainstream consciousness in 2017 as it skyrocketed in value hitting an all-time high of almost $20,000 by the end of the year. Public interest and the media frenzy were rampant, and bitcoin became a red-hot talking point and one of the year's most popular Google searches. I became involved in cryptocurrency mid 2017 by investing in some bitcoin. As I read more about it, I soon became aware of blockchain's potential as a disruptive technology. By the end of the year, I began to conceptualise a crypto inspired exhibition of augmented reality oil paintings.

​I've tried to keep this introduction as brief as possible, but I thought it was important for those interested in my work to explain a little about what Bitcoin is, how blockchain is connected to my art practice and why I decided to embark on a journey towards a cryptocurrency art exhibition. Additionally, for those in the crypto community who are have discovered my paintings I've added a bit of back story as to how I ended up making augmented reality, tech inspired art.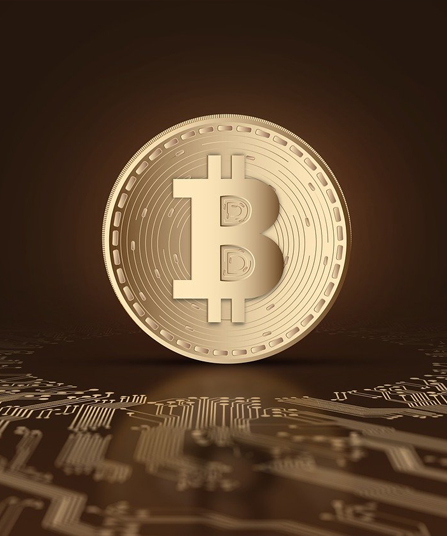 BLOCKCHAIN AND TECH PAINTINGS
As I researched cryptocurrency I began to discover some similarities between the crypto phenomenon and my art practice. Over the last 7 years, with regards to my tech-paintings, I've encountered cynicism, scepticism, apprehension and more from other artists as well as disinterest and occasionally even disdain from commercial gallery owners and the art establishment in general. It's possible these reactions have been founded upon a lack of understanding, the fear of change or fear of the unknown. Perhaps it was indifference? Regardless, it's been an uphill battle as I've worked progressively towards establishing and educating my own community of collectors and other interested parties.
​
Exploring interactive or multi-sensory paintings has been a fascination of mine since shortly after graduating from Art College so, when I began creating large, scannable QR code oil paintings three years later I knew I was onto something. The linked website performed a number of functions including enabling hundreds of other artists from around the world to upload their own art images, art bio and contact details. Essentially, these QR codes paintings accessed a 'digital dimension', connecting an audience including potential buyers with artists internationally. It was current. It was innovative. Unfortunately, very few people in the art world were responsive to the concept or what I saw as an exciting opportunity for viewers to engage with a work of art in an entirely new way.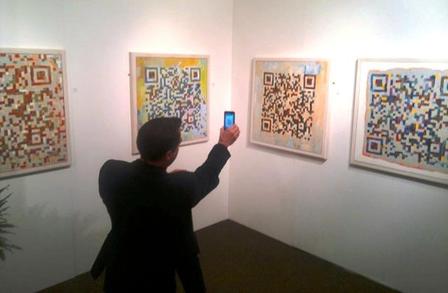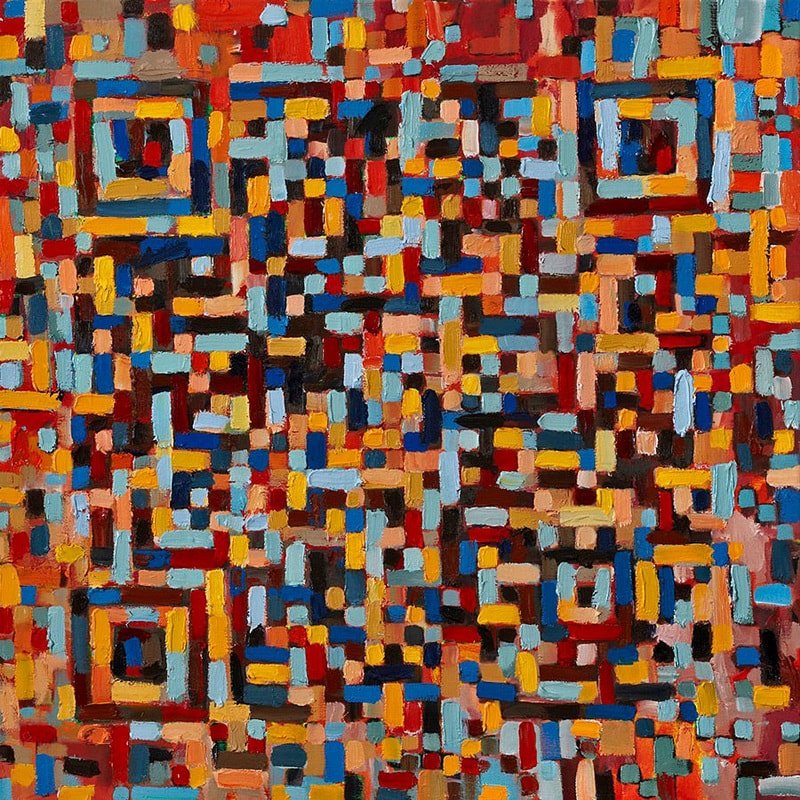 THE SCEPTICS AND THE BELIEVERS
The paintings were rejected from every juried art show I submitted them to and although frustrating I wasn't really that surprised. To the untrained eye and without the knowledge of their digital functions they were only strange looking, coloured squares made up of impasto oil paint and seemingly arbitrary geometric shapes.

​However, I was still excited about the concept and technology's potential as a creative tool and I was determined to continue down this path. Persistence paid off and one Scottish gallery, which I'd previously exhibited with, agreed to show four of these QR code paintings in a group exhibit in 2012. Needless to say, everyone including myself was surprised when one art collector purchased all four of the paintings. This was hugely encouraging and it opened my eyes to the fact that even in a generally conservative art market there were still some people keen on investing in atypical, innovative paintings.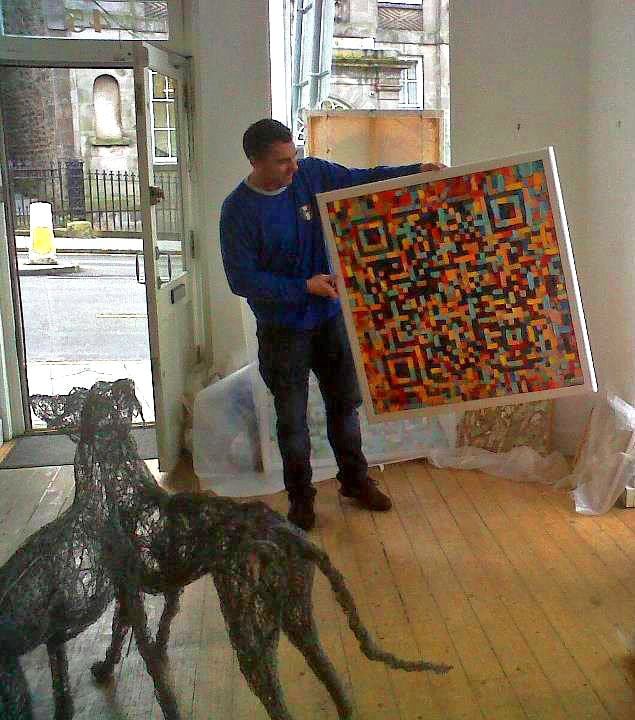 I stumbled upon AR late 2012 and immediately began researching how this technology could be used to increase and improve viewer engagement with my work. I was surprised to discover I was the first professional artist in Scotland (and quite possibly one of the first worldwide) to combine AR with traditional painting. My work was even cited, in Augmented Reality Art: From an Emerging Technology to a Novel Creative Medium (2014), the first academic publication about art and augmented reality.

​So, with this shift in technologies, I could once again paint anything I wanted with the painting becoming the AR target image and link to the digital content. I was no longer constrained to a square format QR code. To put it in layman's terms, AR 'transforms' my paintings into, in a sense, 'flat screen TVs' providing the viewer with alternate visual and audio information along with URL buttons to link websites, social media feeds etc. The tech provides the freedom to further engage with the art on levels completely unexpected and through entirely unique mechanisms to traditional paintings. With the AR app viewers can access more information about the artwork, watch my creative processes, find out about the inspiration behind the piece, or even be introduced to alternate narratives thereby changing the way one responds to it emotionally.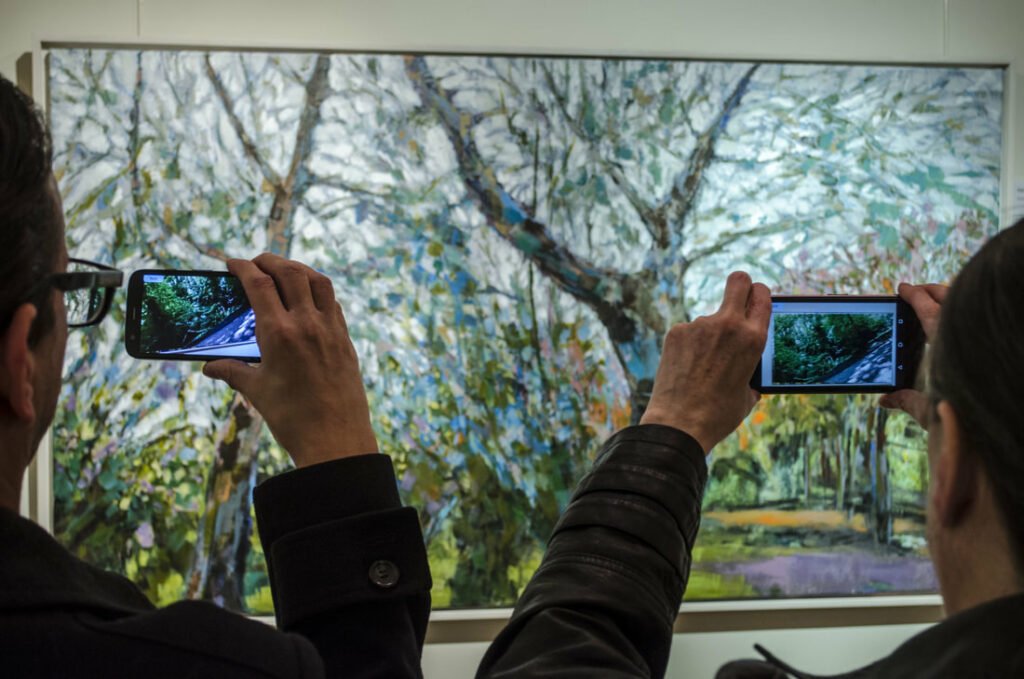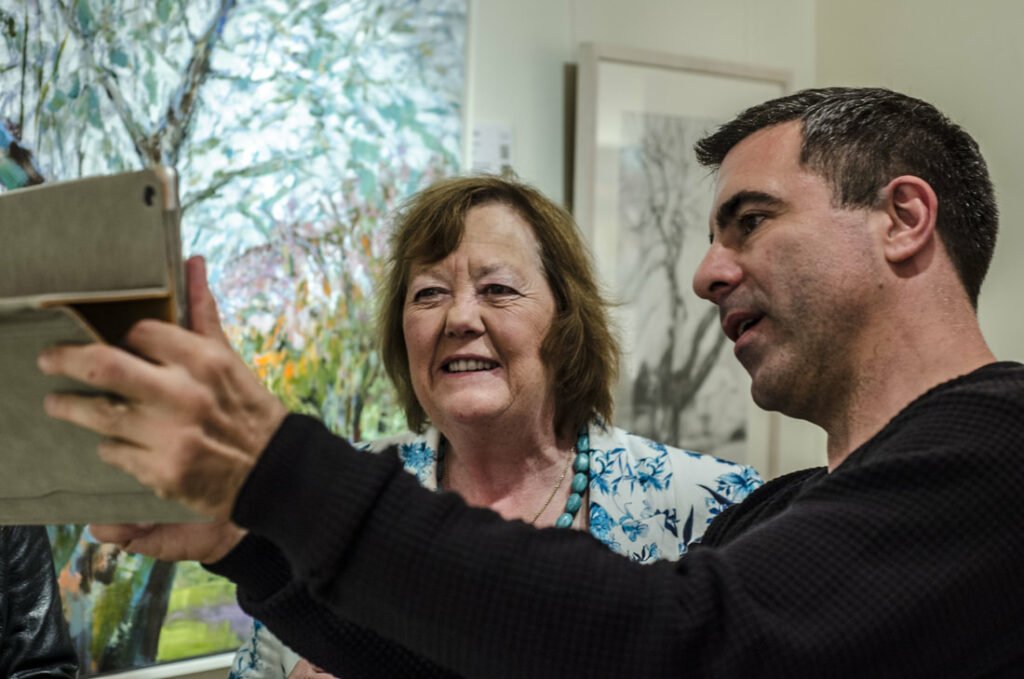 DISRUPTIVE TECHNOLOGIES
Disruptive technologies are those that significantly alter the way businesses or entire industries operate. Often, these technologies force companies to transition the way they approach their business, or risk losing market share or becoming irrelevant.

​Like cryptocurrency, augmented reality is described as a disruptive technology. In the not too distant future AR will revise the way we work, how we buy things, and how we learn, play and communicate with each other. Very simply, AR will change how we see and engage with the world around us. Entire industries will become obsolete overnight. For example, why would someone pay thousands for a big screen TV when with a £5 app and AR glasses one could view a virtual big screen TV and stream their entertainment of choice anywhere they happen to be? And of course AR will shift the way we view art. Will the art market turn towards digital artwork entirely? Unlikely. Will it make the act of creating a painting in a traditional sense obsolete? Absolutely not. However, AR AND blockchain technology will change how people purchase both digital and physical art and it will offer an alternative to how one would normally engage with it.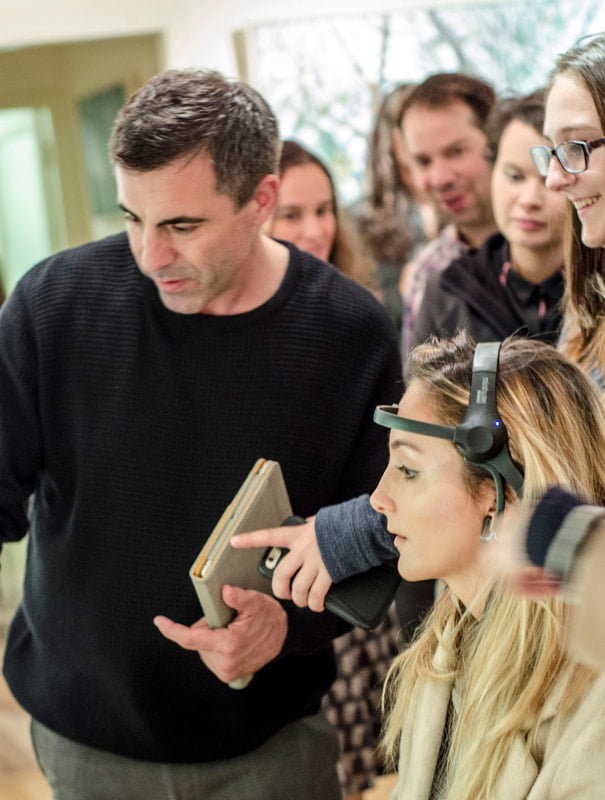 THE AGITATOR
I've taken the term disruptive technology and interpreted it slightly differently with regards to my work, using AR in a cheeky way to facilitate some 'unruly antics' to attract media attention to my exhibitions and the art I'm producing.
​
For example, in 2014, after being rejected once again from the annual Royal Scottish Academy open exhibition I decided to introduce the art establishment to augmented reality in a way they wouldn't forget. The day before the opening of the gala event I covertly entered the RSA (don't ask how) and photographed all the artworks on display by my contemporary Scottish artists who had been selected. I went home and augmented 60 of these works and digitally embedded my drawing and painting images 'inside' the frames of each one. I would have augmented all 400 pieces but unfortunately, I ran out of time.

My goal was to turn the 188th RSA Open into the Trevor Jones solo show. I counterfeited 25 invitations for the opening night and invited a bunch of friends who had all downloaded the AR app to their smartphones. Moreover, I added my website and FB page link to each augmented image so that viewers with the app could contact me directly through the other artists' pieces. I'd also included a shopping cart icon for people to buy my work but decided that may be crossing the line, so I deleted it the day after the opening. I did think the idea was brilliant and hilarious though – selling my work 'through' the RSA exhibition even though I'd been rejected and my art was not physically on display.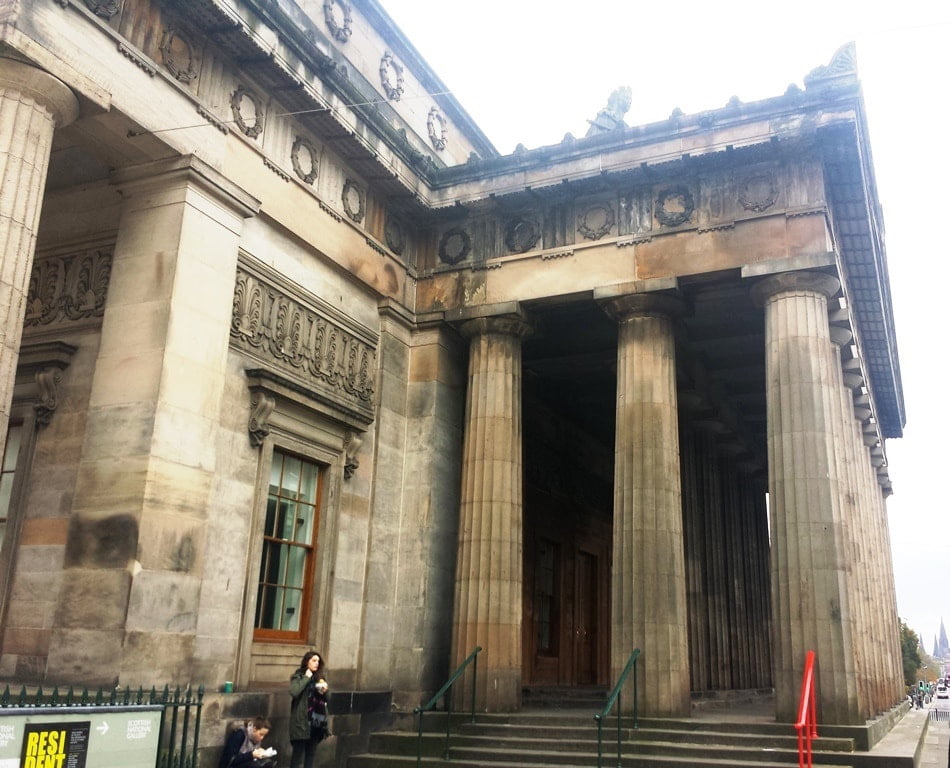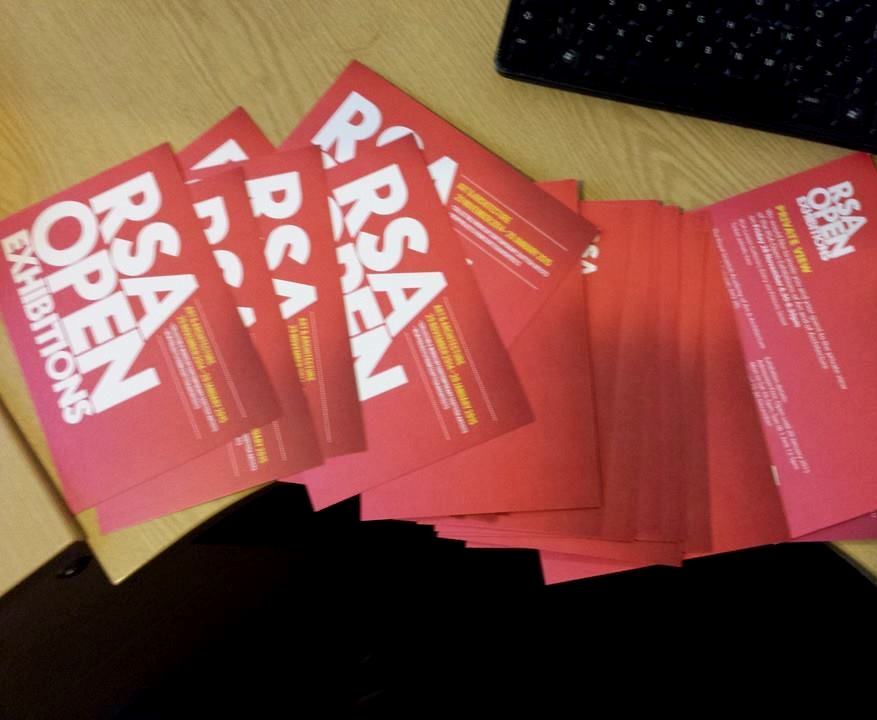 We attended the opening and filmed my friends scanning the work on the walls, triggering my images (and some of the other artists in the process…) and we recorded the reactions of the guests and artists in attendance. Subsequently, I received some slightly impassioned emails from offended artists upset with me for 'disrespecting' their work and the history, tradition and grandeur of the RSA Open exhibition.
The following year, in 2015, I 'hijacked' the National Gallery of Scotland and transformed 15 of the masterpieces including a Monet, a Gaugin, and a Van Gogh by augmenting them with my paintings, also adding my website and FB page links. I received national media coverage, which even opened up a discussion in the Scottish art world about art and ownership of digital space. When questioned about my stunt by the Herald reporter a spokesman for the National Galleries replied, "Visitors to the National Galleries of Scotland are free to take photographs of most of the artworks on show for their personal use and we are also very happy for them to use these images as the basis for their own dreams and imaginative journeys." So bland…
​
I annexed the National Gallery of Scotland. Anyone with my app could visit the gallery and view my art on the walls. In an abstract sense I'd removed millions of pounds worth of works of art from this neoclassical building and installed mine in their place. I was the only living artist with artwork on show in the National Gallery – and not just one painting but 15 of them. At the very least I expected someone from the NGS to contact me and ask me how I did it or, more likely, ask me to remove it but there was not a peep from them.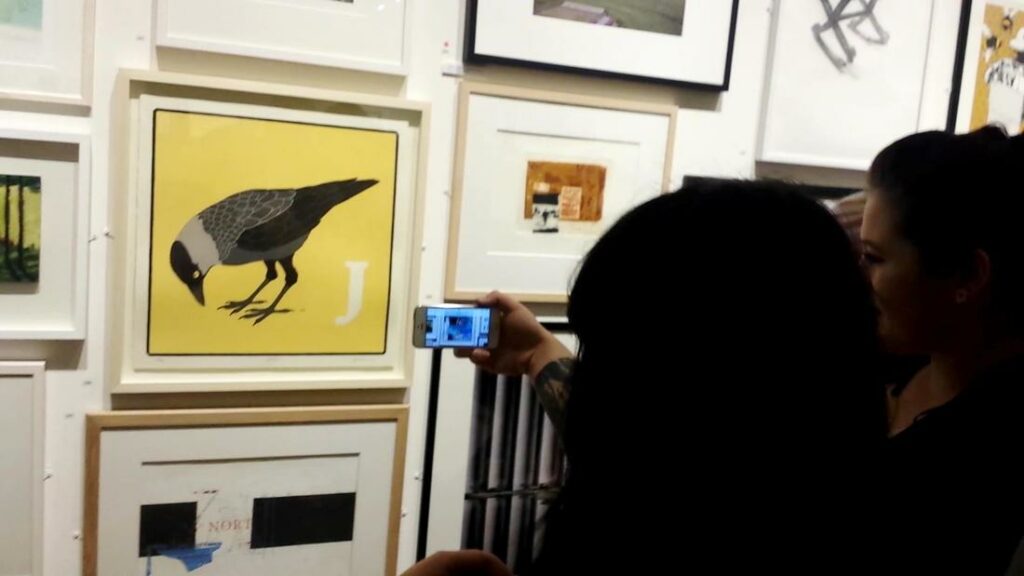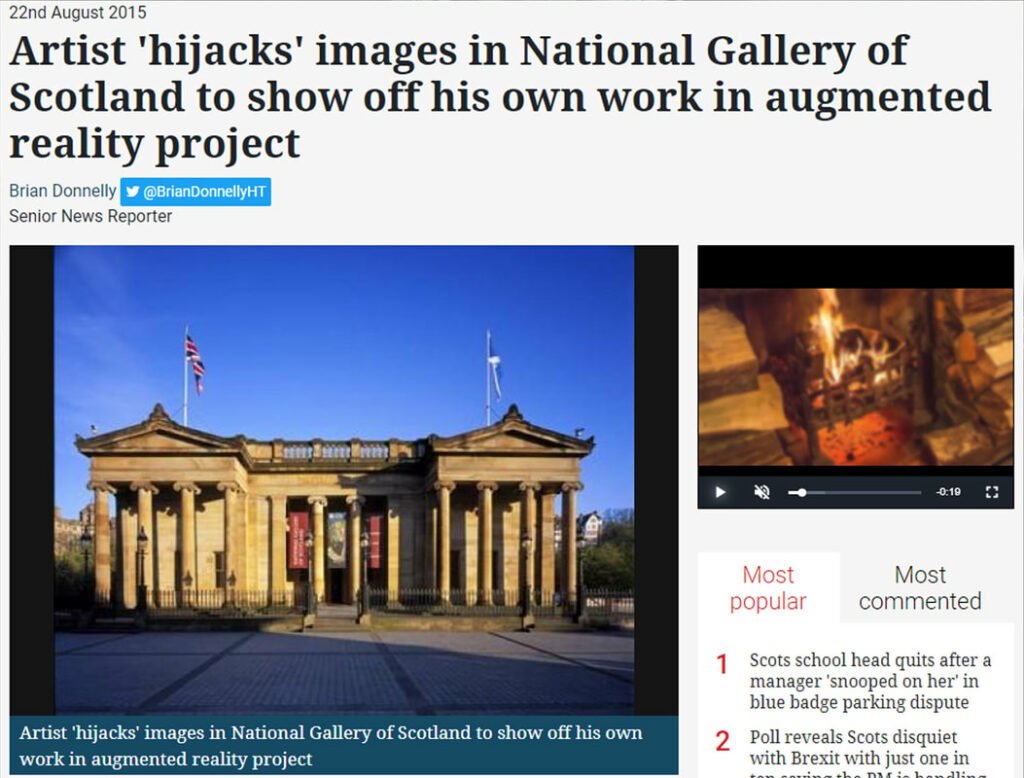 SO WHY A CRYPTOCURRENCY THEMED EXHIBITION?
As mentioned, with my slowly expanding understanding of blockchain, the crypto community and investing, I began to see the disruptive similarities between this technology, augmented reality and how my artwork may, like crypto, be perceived by the more traditional, conservative market. Since 2011 I've been focussed on creating innovative art that pushes formal boundaries and adds to the creative knowledge set, that challenges and perhaps even threatens the status quo, and that encourages people to question what a painting can actually be. Bitcoin and other cryptocurrencies are doing similar things with fiat and the financial sector. It made sense to me to try to tie this all together and explore the notion of a crypto themed exhibition.
So, by the end of 2017 I began to formulate my ideas, research key figures and concepts and develop the creative elements of the paintings; subject, composition, colour, video, music and other media.
​
– and then I started painting