The Architect – Satoshi Nakamoto
In February 2020 I was involved in a few conversations with others in the rare digital art space about the market value of a physical work versus the value of an NFT that is created from the artwork. Opinions varied as to which is believed to have (or should have) more value; however, one view was held strongly by all, that society's perception of digital/NFT art will shift and its value, the key pieces in particular, will increase dramatically in the coming years.
These conversations sparked an idea, a kind of experiment. I decided to create an NFT of one of the twelve paintings from my 2018 'Crypto Disruption' solo exhibition; however, rather than just choose one at random, I decided to tokenized my most well-known, iconic and pivotal artworks since entering the cryptoart scene: The Architect – Satoshi Nakamoto.
In March someone bid a very respectable 11 Eth for the NFT, however, this was less than half the sale of the original painting and so I decided not to accept it – and I'm very happy I did! On the 16th of June, 2020 the @MuseumofCrypto (MoCA) placed a bid of 27.5 Eth which officially made the NFT more expensive than the original painting. ​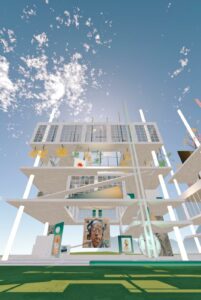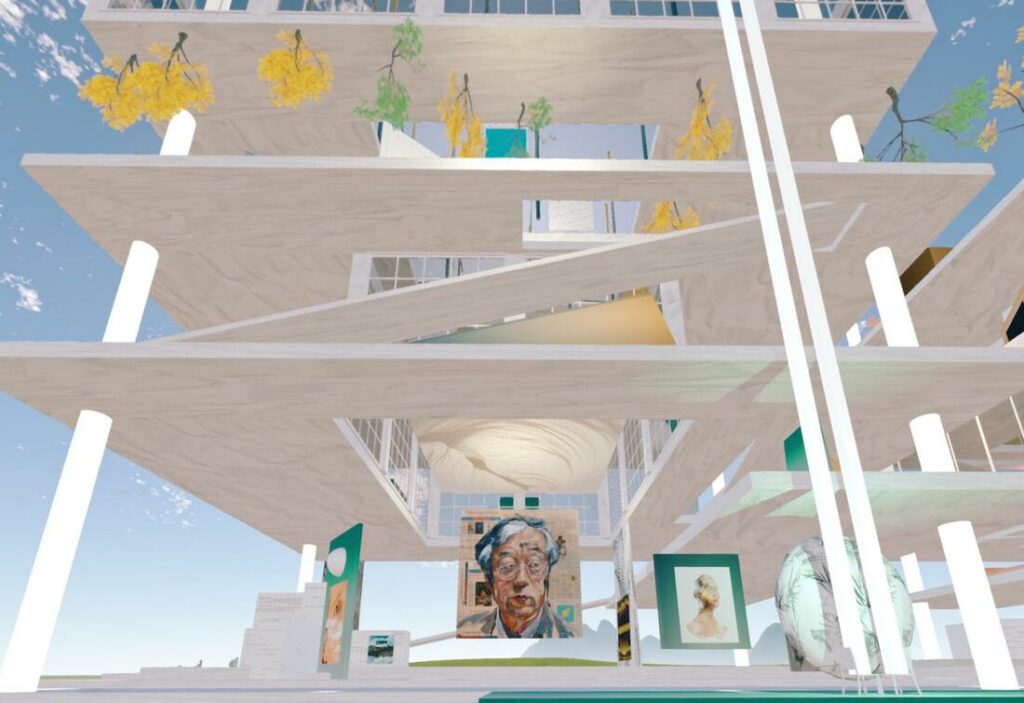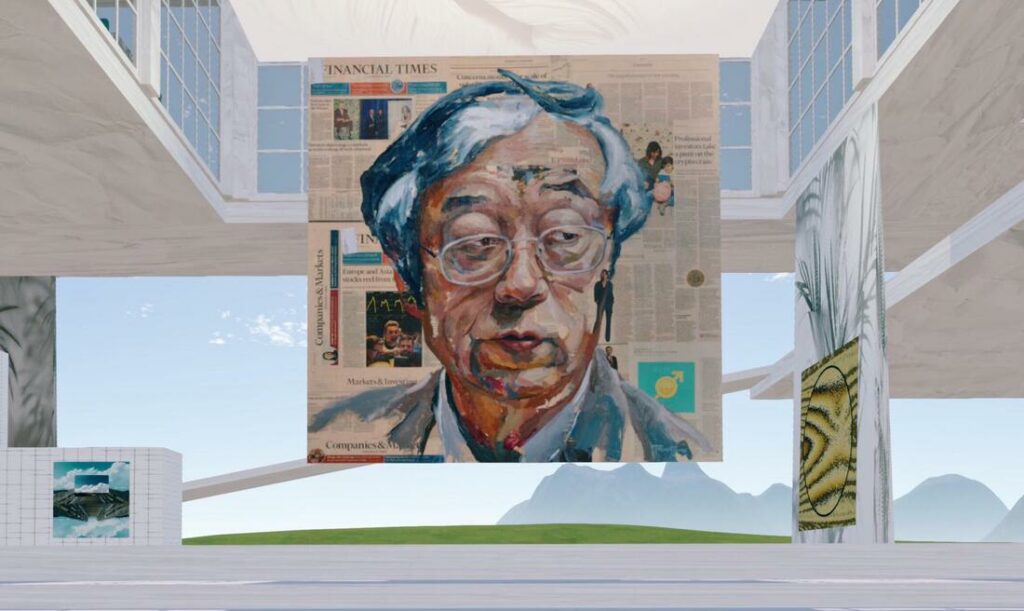 ---
The MoCA team and I decided to organise a video call to get to know each other and after a very productive conversation they agreed to also commission a large oil painting along with an affiliated NFT animation and a creative process video. The team is passionate about art in general but in particular with VR and their new museums in the virtual world – Somnium Space.
I was over the moon when they explained that 'Satoshi' would take centre stage in their gorgeous VR museum as will the commission NFT. They have long term plans of building a physical museum, which will house more cryptoart creations including 'The Architect'. I really looking forward to watching them build (VR and IRL), expand their prestigious art collection and one day to hopefully visit the museum. Exciting times!
---
Why is this portrait special?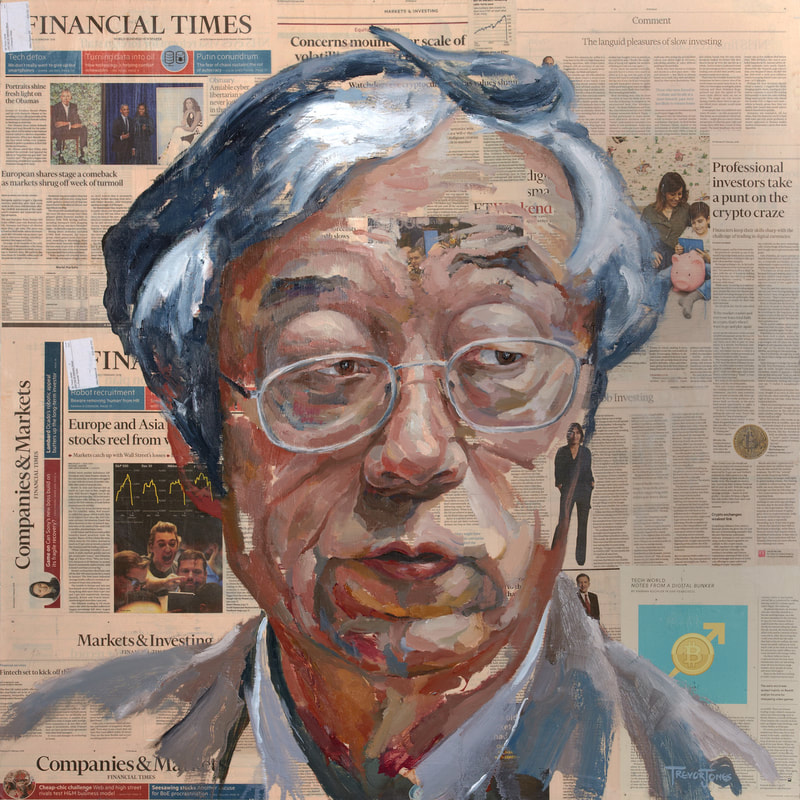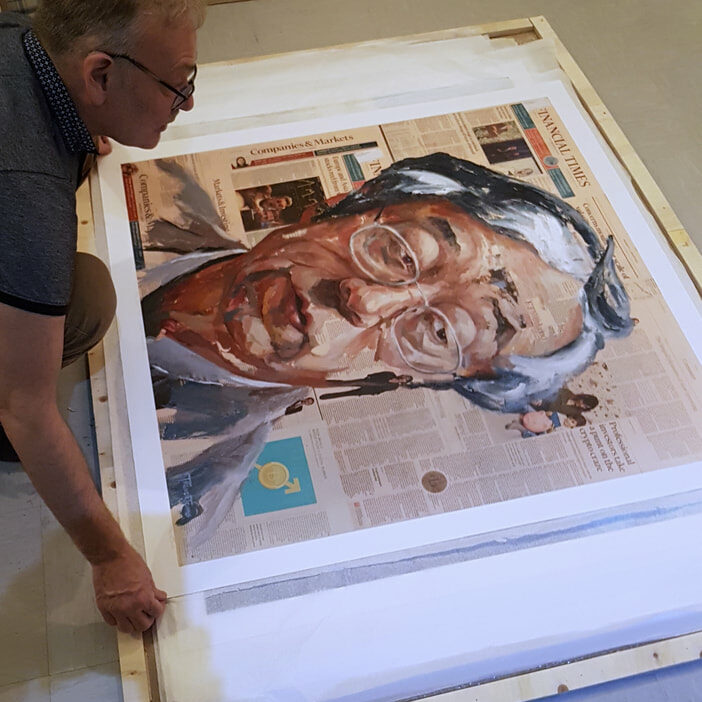 'The Architect – Satoshi Nakamoto' is the painting that put me on the cryptocurrency map with an exclamation mark, so to speak. The public engagement with this piece since I first posted it online in June 2018 has been overwhelming and for some reason, 'Satoshi', even more than my portrait of John McAfee holding a gun to his head, has captured imaginations.
​I was a little surprised that three months before the solo show even opened the painting sold for the list price of £4,950 ($6,250 USD). The buyer spotted it on twitter and contacted me to inquire about it. It was the first painting of the exhibition to sell and it was even more special as it was the very first painting I'd ever sold for Bitcoin. 'Satoshi' is a pivotal and meaningful work of art in my art career to date and that's why I chose it for the NFT.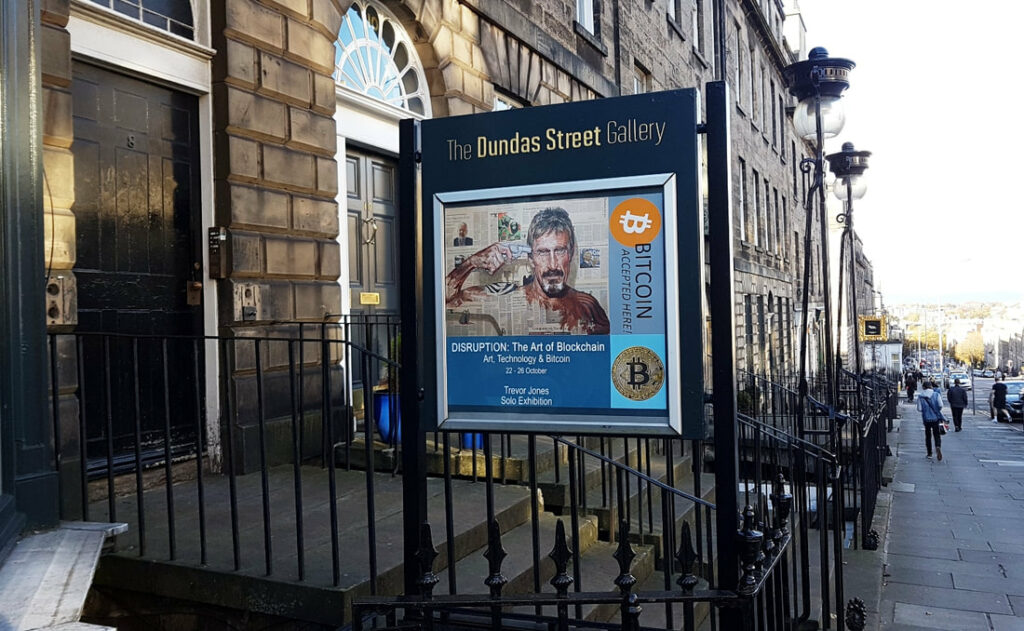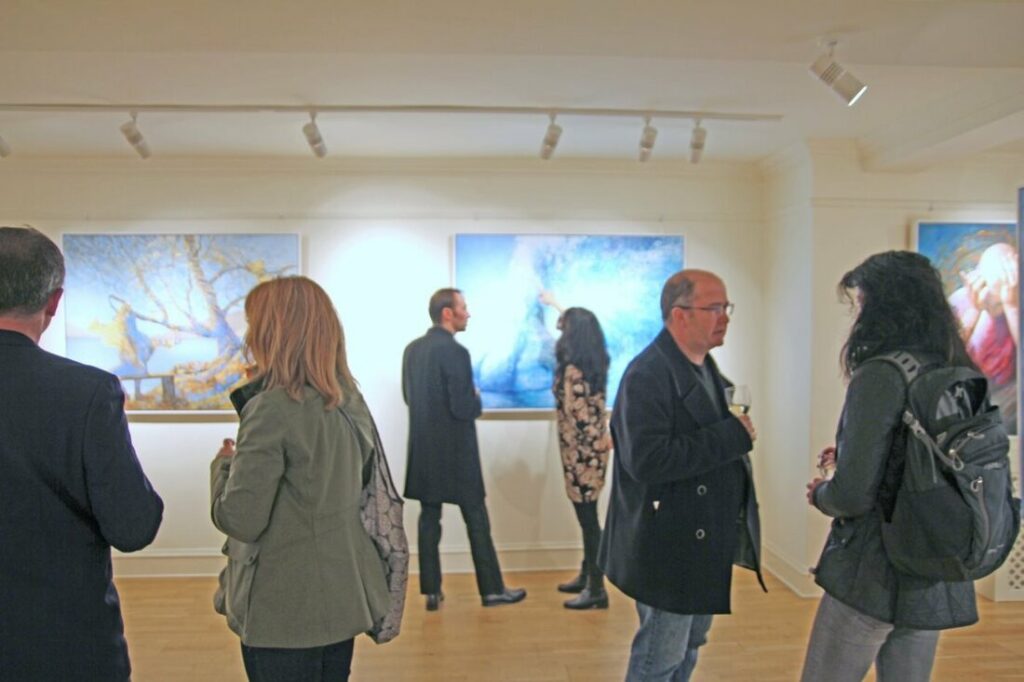 ---
Around the World and Back
'The Architect – Satoshi' has been written about and the image used in many publications including bitcoin.com, Financial Times, BreakerMag, and CoinRivet. I've even discovered it being used without an artist credit in a number of online articles, which is frustrating but also a great example of just how popular this work is.
In November 2019 someone (I'm not going to say his name) tokenized 'Satoshi' and listed it on OpenSea! I didn't take the theft of my artwork well at all, understandably. I tweeted about it, which ended up kicking off a massive online debate, sparking heated arguments and generating articles and blog posts about this new 'Wild West' digital art world and the problem of art theft and copyright issues taking place on peer-2-peer marketplaces. Anyway, OpenSea contacted me and they removed the fake NFT immediately. Shortly after, other marketplaces like SuperRare and KnownOrigin also began to make a more conscious effort to educate their artists as to what is and is not acceptable. 'Satoshi' does have a way with sparking conversation. The artwork has been seen both physically and digitally at conferences in Britain, the USA and China and limited edition prints have been sent around the world to countries including Australia, Belgium, Greece, Germany, France, Switzerland, USA and Canada. The image was used on the cover of the UK magazine Affluent Lifestyle, which can be found in most of the UK airport business lounges and which is also delivered direct to UK homes with a minimum value of £1 Million.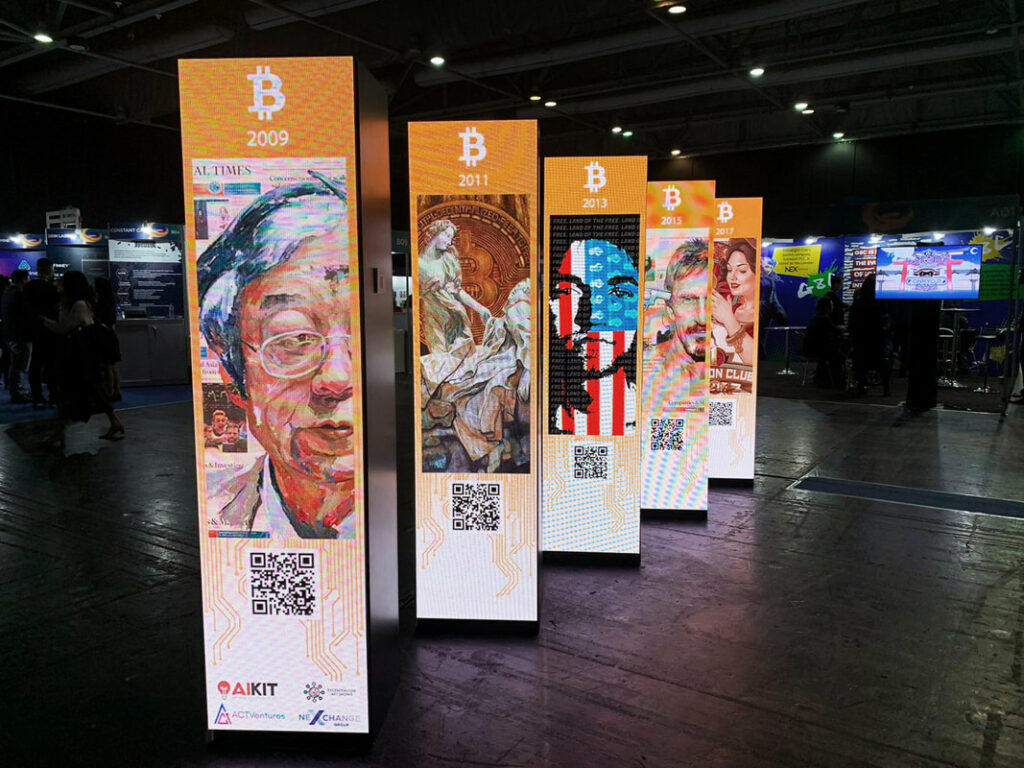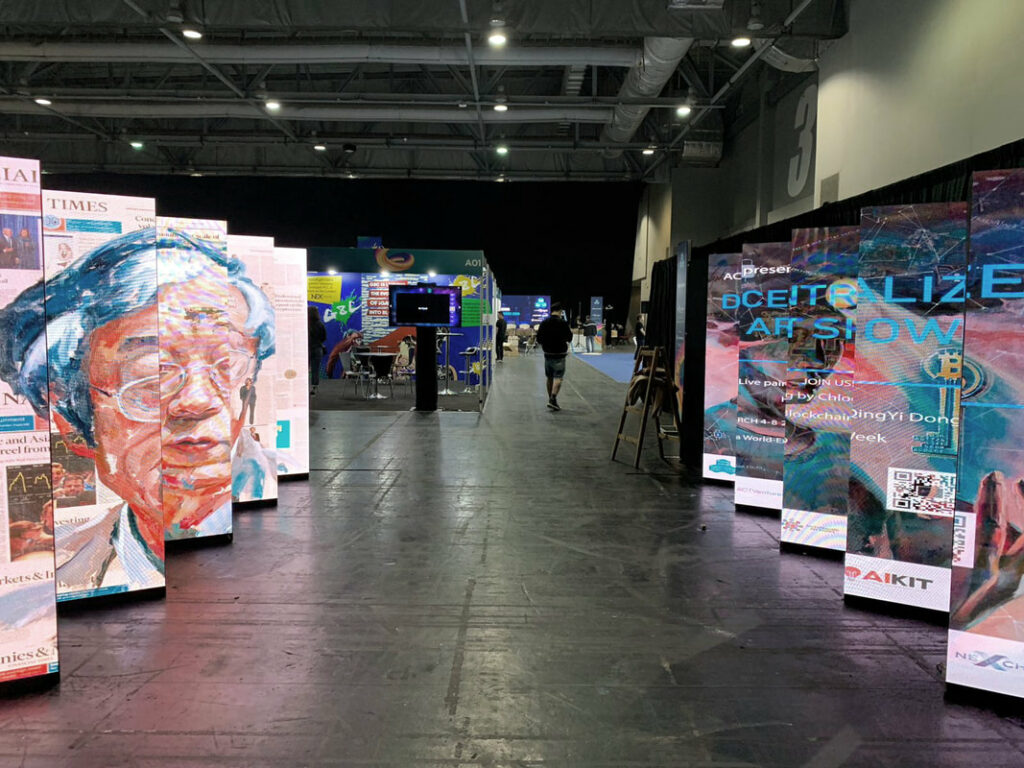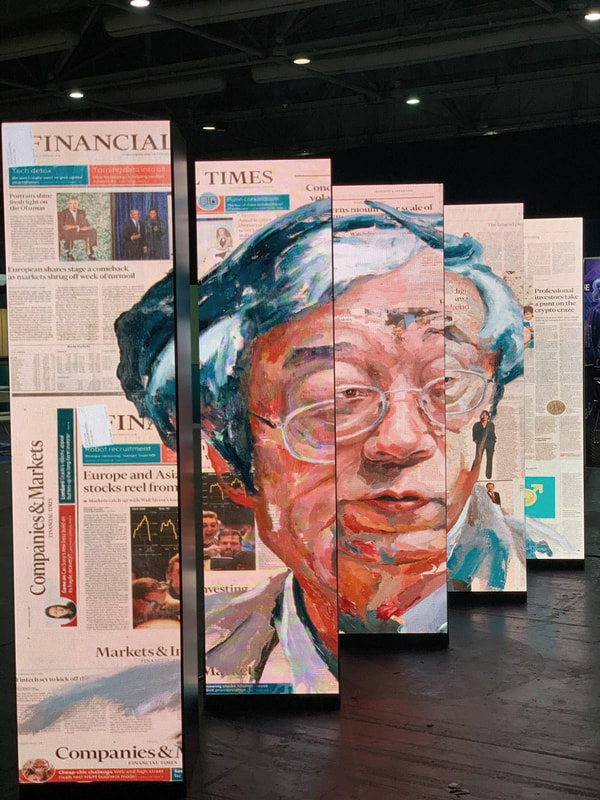 ---
Mass Adoption
'Satoshi' has been seen by an enormous number of people around the globe and it's quite likely that a lot of them knew very little about cryptocurrency. My goal as an artist whose work will continue to focus on this exciting technology and the people involved in the space is to eventually cross back over to the traditional art market. I know this will only be a matter of time. Moreover, we all talk about how cryptoart can be a vehicle to help drive mass adoption; I'm confident that my art, in particular paintings like 'Satoshi', will help play a role in this.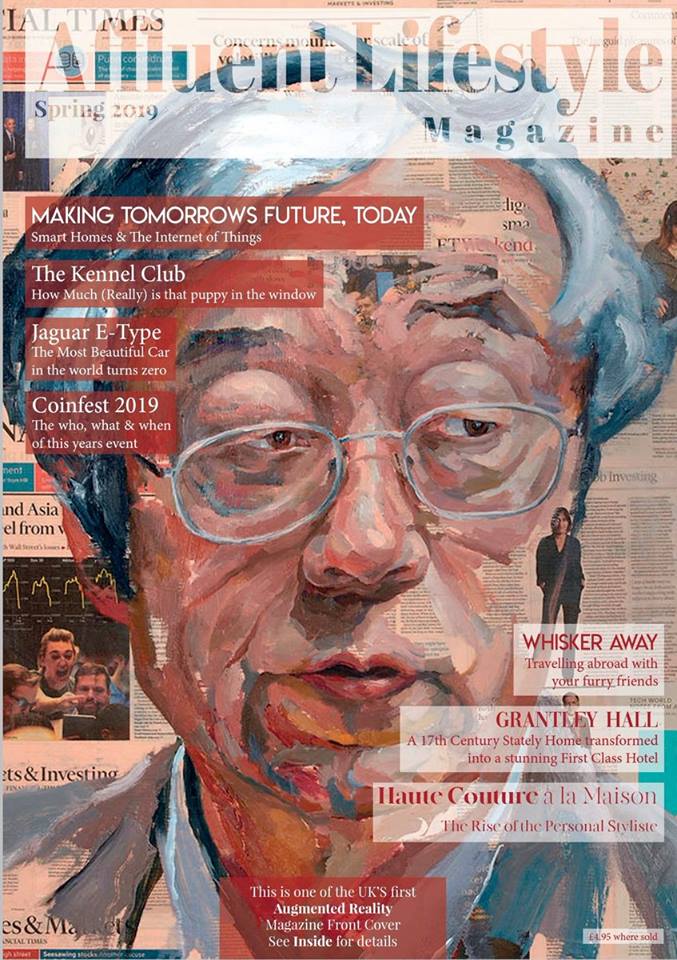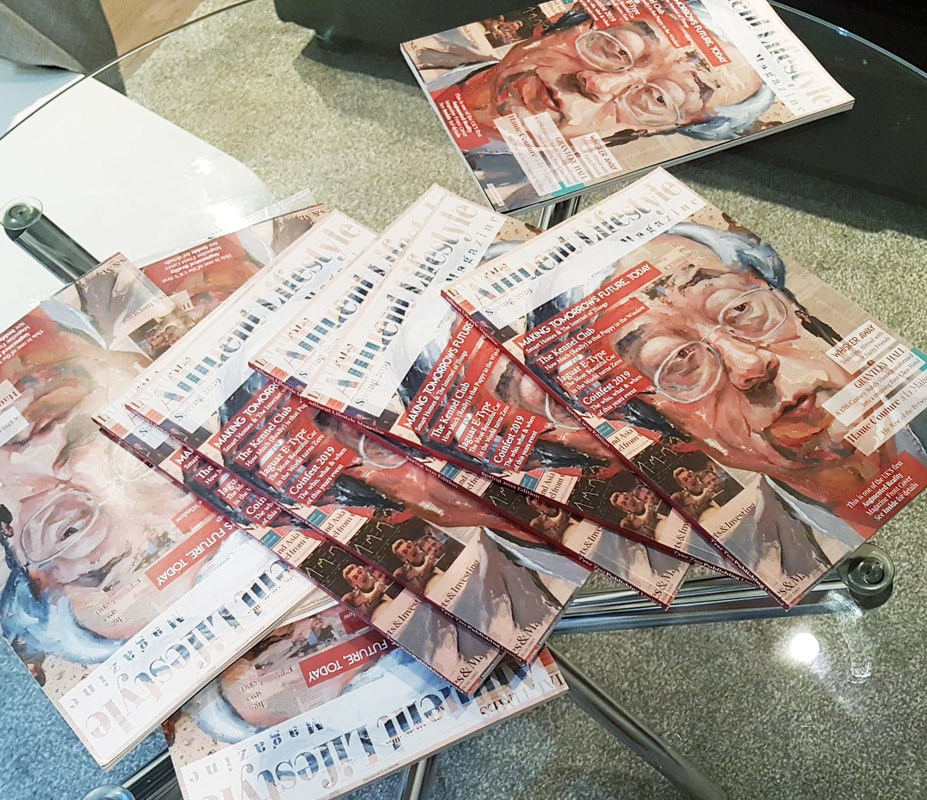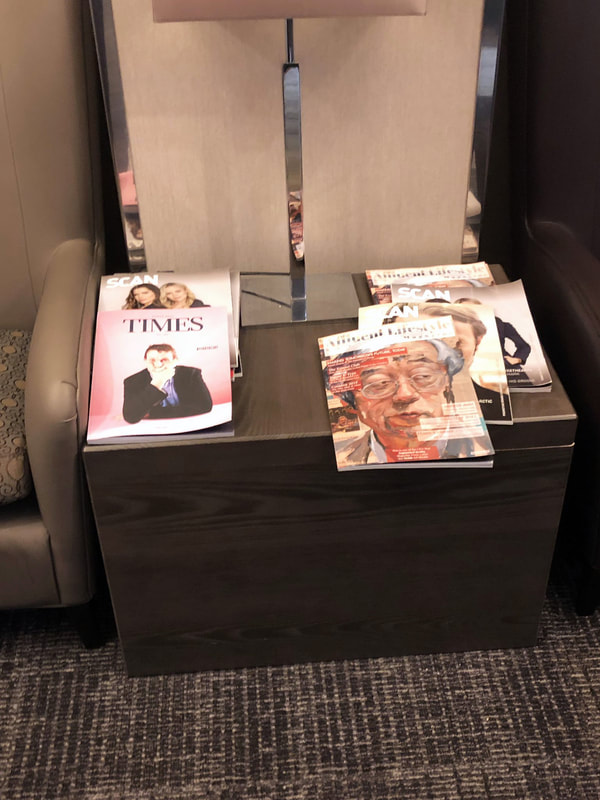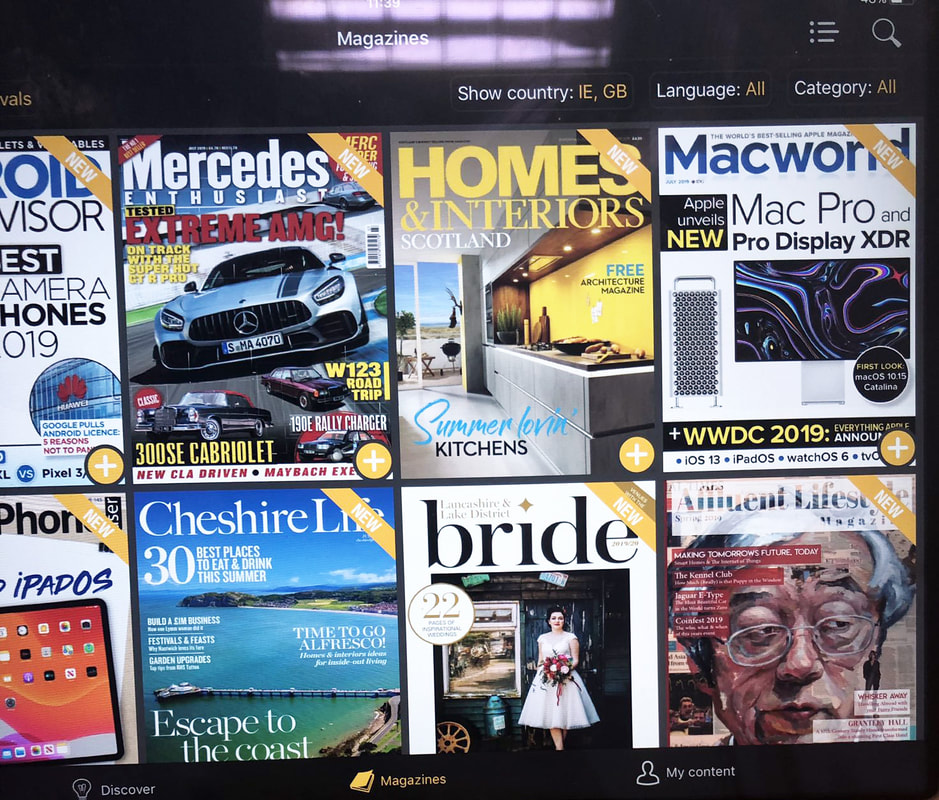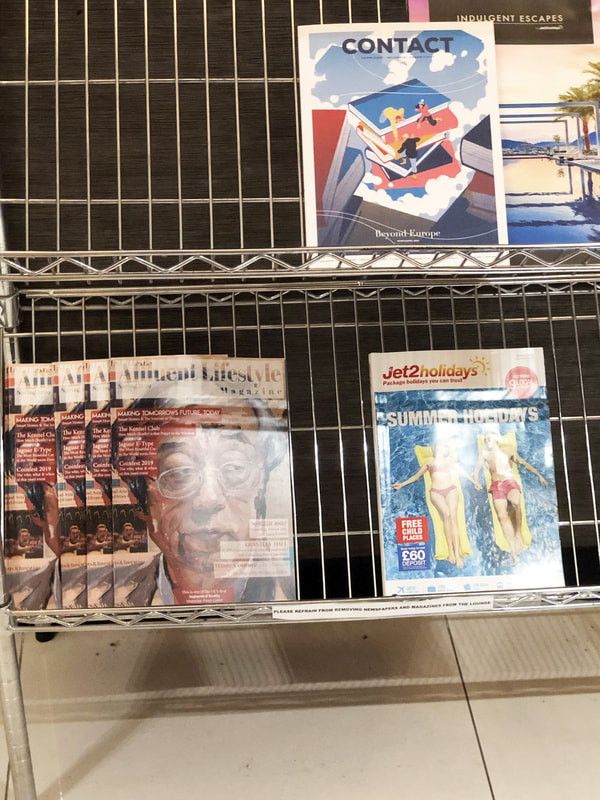 ---
Satoshi and Serendipity
​On October 26th, 2018 the very last day of my Crypto Disruption exhibition, a visitor walked into the gallery to view the paintings. She told me she knew nothing about bitcoin but as she looked at each painting she recognised the woman on the Financial Times article in the 'Satoshi' portrait as the editor in chief of Moneyweek and FT columnist, Merryn Somerset Webb. She told me that Merryn lived here in Edinburgh just down the road from the gallery. I had no idea at the time who Merryn was as I didn't read the FT until I subscribed to it to gather bitcoin articles for my artwork. This was a crazy coincidence as writers for the FT live all over the world and so I searched for Merryn on twitter, tagged her in a tweet and invited her to the exhibition. Unfortunately, she couldn't make it before the gallery closed that evening but the next week she visited my studio to see the painting. She liked it so much so bought a large print for her office and about a month later she wrote an article for the Financial Times beginning with a mention of the artwork.
A few days later someone from London saw Merryn's tweet about 'Satoshi' and contacted me to commission a similar portrait of the same dimensions. Interestingly, this buyer was not involved in any way with cryptocurrency or blockchain technology, she was in the banking sector and she just really liked the painting. This all happened through absolutely amazing serendipity and these are only a couple examples attesting to the genuine interest and intrigue that people have with 'The Architect – Satoshi Nakamoto'.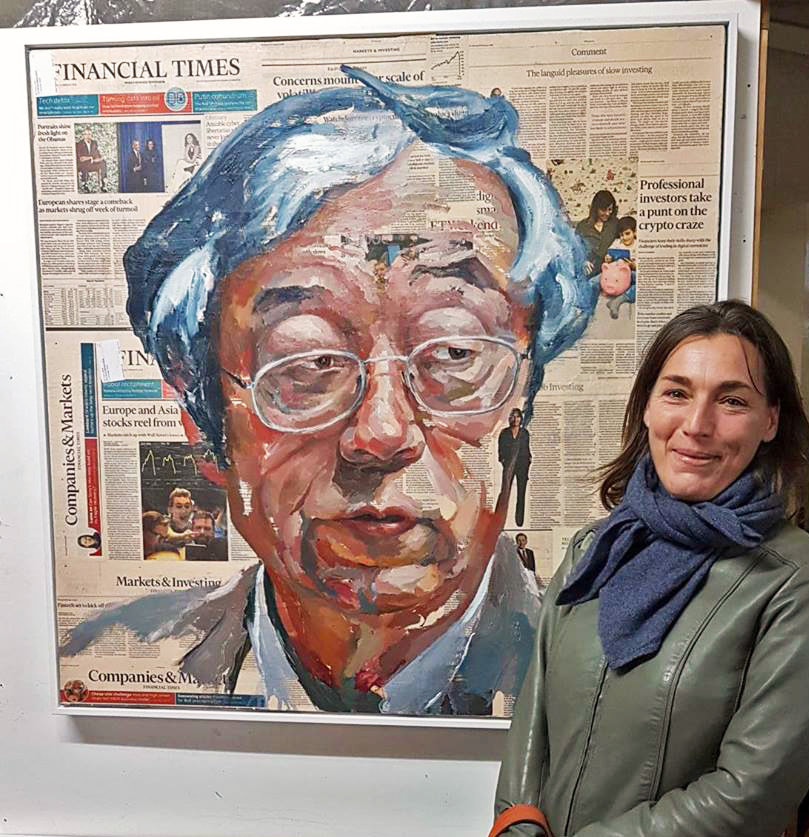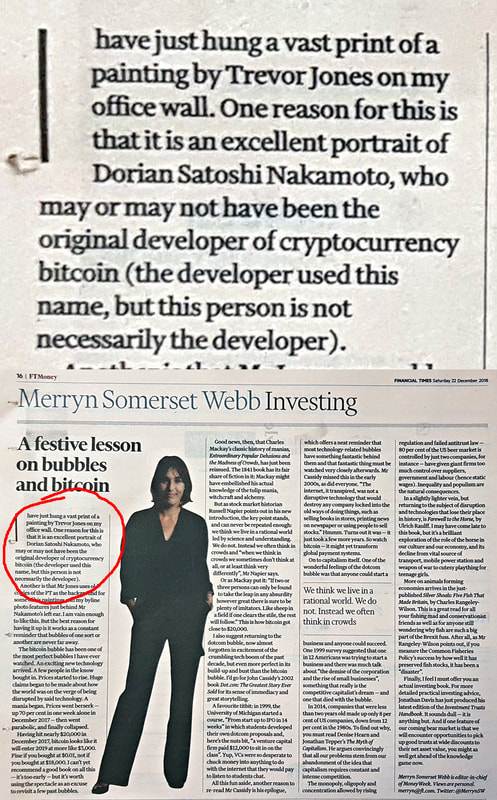 ---
Augmented Reality and the Creative Process
A demo video of the augmented reality features of 'Satoshi' and further below a short video showing the creative process involved in the making of these paintings from start to finish.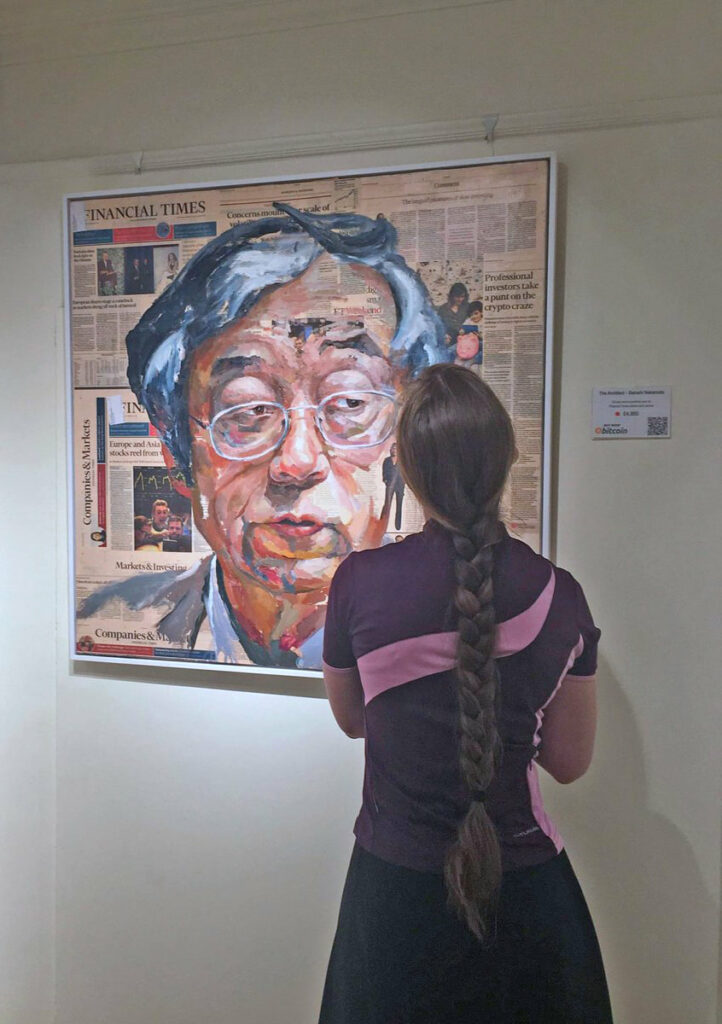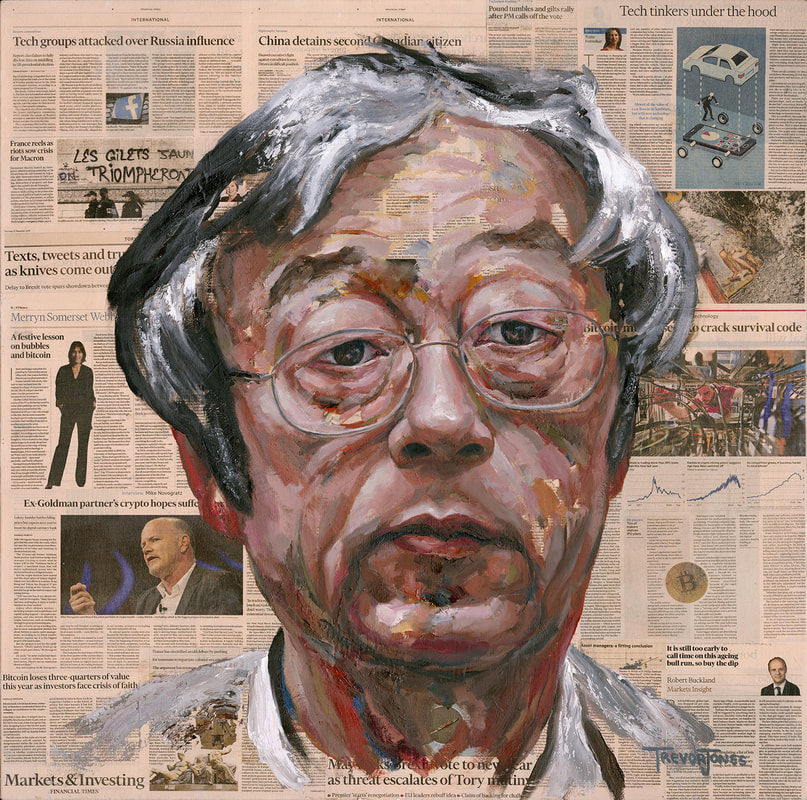 ---