The Angel's Share
A Partnership with Metacask 18-22 October, 2021
View the artwork at the Metacask auction site.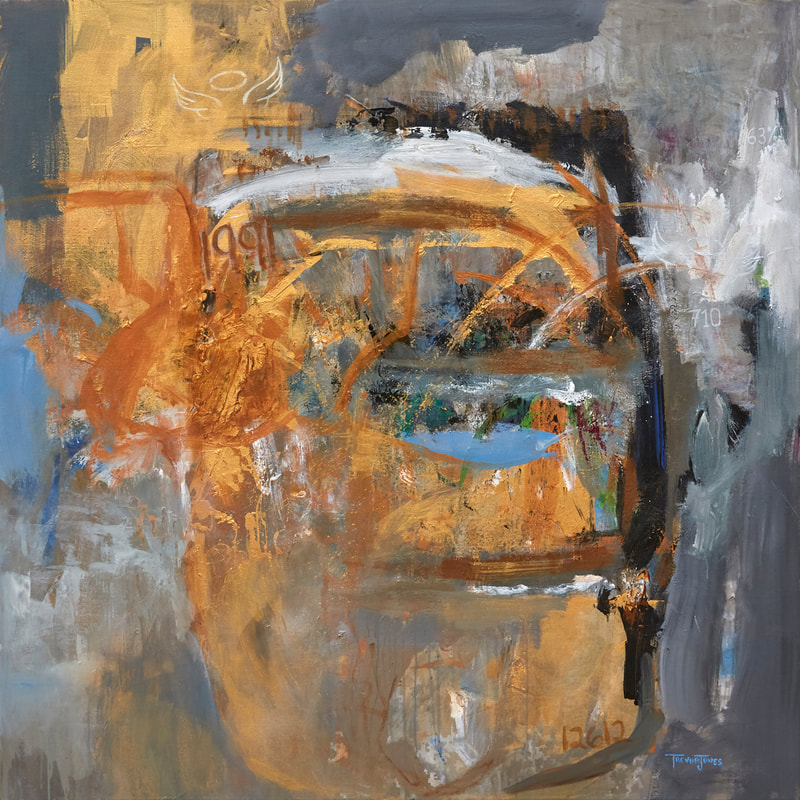 Western painting has been dominated by the pictorial language of optical resemblance. Painters were expected to render the visual world as accurately and convincingly as possible. According to Alberti for instance, painting was "a window onto the world." But what of The Angel's Share? How might painters rise above the mundane to visually express that which is not visible – the poetic, the spiritual, the angelic?
The artist Trevor Jones has been confronted with such a challenge with his subject, Macallan's highly prestigious 1991 whisky, hidden away in cask 12612, and not open to visual scrutiny or artistic examination. Put in such a position the painter has wisely opted to take a conceptual, rather than a mimetic approach, to convey and celebrate his veiled subject.

Using the highly inventive pictorial language of modern painting – in this case a combination of cubist fragmentation and abstract expression – the painter has subtly drawn together a range of different elements that have played their part in the complex distillation of this particular and highly prized malt whisky.
The painting's predominant central motif powerfully evokes the presence of the great sherry butt cask, in which the precious liquid will be left to mature for an impressive fifty years. Superimposed on the cask motif is the faint brown outlined shapes of two copper pot stills which play a vital role in the distillation process. To the right, above the pots there can just be made out arched outlines which reference the splendid wooden beams that grace the ceiling of the recently renovated Macallan's Distillery at Easter Elchies. The surrounding background of the painting, with its different areas of vigorously applied pigment – in gray and white – is highly evocative of the Scottish landscape and the volatile nature of its climate. With such raw and spontaneous brushwork, the painter successfully seeks to follow in the footsteps of his illustrious predecessors, such as William McTaggart and Joan Eardley.
Finally, we are allowed to catch a momentary glimpse of the eponymous Angels. Soaring above all the liquid ferment below, we can just make out the almost transparent, wispy white lines of the Whisky Angels, who according to Scottish myth and ancient folk tradition, draws off from the distillation process, the divine's share of the water of life.
Bill Hare