All That Remains
And if I hadn't come now to the coast to disappear
I may have died in a landslide of rocks and hopes and fears​
'Swim Until You Can't See Land' was the first painting to sell on the opening night of my very first commercial gallery exhibition in 2010. I was so nervous on the lead up to this show that I was honestly thinking about quitting painting to find another career. It would have been quite the waste of a giant student loan debt as I was barely two years out of art college, but the 4 or 5 weeks of anxiety and sleepless nights before the opening were tearing me apart. It took me a long time to learn how to deal with my pre-exhibition fear and to manage the inevitable anxiety that comes with it.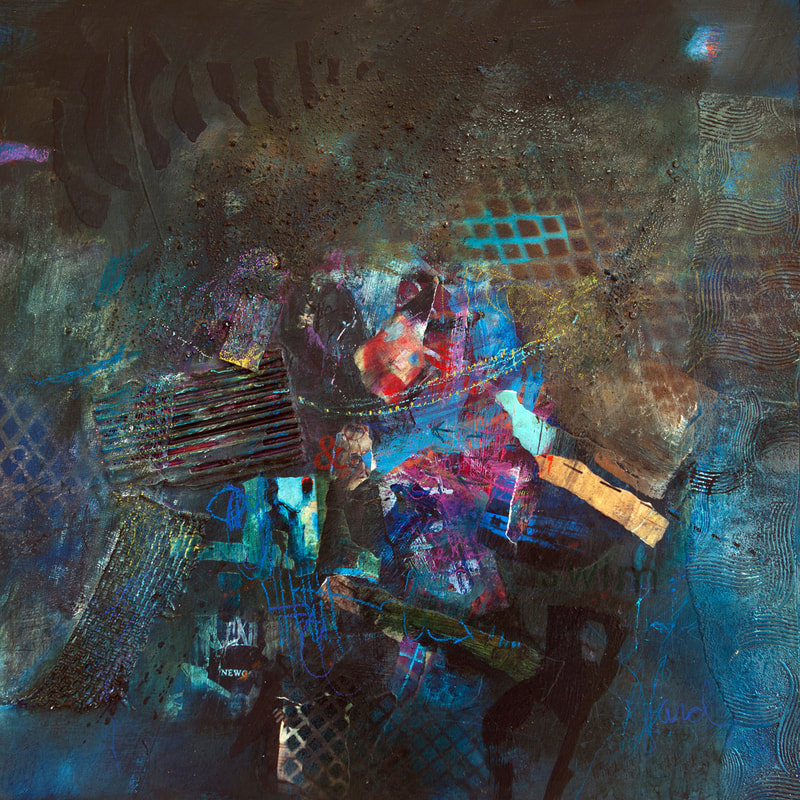 However, with the sale of 'Swim…' I calmed down a little on the night but I was genuinely surprised that of all the paintings in the exhibition, this was the first one to sell. The work is especially dark; deep Prussian blues and even black with a few glimpses of light appearing through the darkness, it's intentionally moody and foreboding. The piece was unlike any of my other paintings that were accompanying it on the gallery walls, which were all much lighter and colourful. Yet that night someone connected with this work so much that they wanted to buy it. There was something special about the painting from the beginning.
If the story ended there, I'd be happy.
I wish it did end there. ​
The exhibition was titled 'Synaesthesia' and the paintings were each inspired by a contemporary Scottish song. Admittedly, I'm not a synaesthete and I don't 'see' colour when I hear musical notes but the notion of using music and rhythm as stimuli to create visual art captured my imagination for a few years. Of course music can't be directly translated visually; instruments and song lyrics connect emotionally by means in which a painting doesn't and so the notion of bringing the two art forms together was intriguing. When working on the paintings for this show I'd listen to each track literally hundreds of times in my studio, over and over on repeat, as I worked on the correlating painting until eventually, I felt the artwork captured some (subjective) visual essence of the song. I also loosely followed the colour music code created by 20th century painter Roy de Maistre and so each work became a creative exercise in balancing my subjective interpretation and emotional response to the song with de Maistre's quasi-scientific code.

'Swim…' was by the indie rock band Frightened Rabbit. I didn't know much about them at the time, but I'd heard they were rising stars on the Scottish music scene and they'd been touring quite extensively. As for the other songs that inspired the artworks, it was a mixed bag of genres that included KT Tunstall, Primal Scream, Martyn Bennett, Garbage, Biffy Clyro and more. All of the songs and the artists undeniably became important to me, in part due to listening to them day in and day out over the course of a year but also because they were the inspiration for the work for that critical first solo show.

The Frightened Rabbit song resonated with me in particular. If you listen to it there's a light and ethereal quality to the guitar riffs and an uplifting cadence and rhythm in general but when I first heard the song, to me it sounded more like a call for help, an existential crisis or perhaps the words of someone who had already made the decision to resign from life.
I'd researched the lyrics before I began working on the painting and I found comments online attempting to interpret them. Almost everyone described the song as a message of hope, of successfully navigating a terrible time like a difficult breakup followed by letting go of the past. I didn't decode the song like that at all but then I'd only recently recovered from some difficult years battling depression and I figured my view was most likely skewed and I still wasn't seeing things clearly. Nevertheless, what came out of me and onto the canvas for 'Swim…' did not look like a message of hope, it appeared more a statement about the fragility of life. ​
Fast forward a year to 2011 and I was organising a charity fundraiser for Art in Healthcare. The fundraiser was set up in collaboration with the Hard Rock Café Edinburgh, and as part of the event I painted a Gibson guitar for an auction. With the help of the HRC we'd managed to get some well know musicians to sign the back of the guitar including Jon Lord of Deep Purple and Canada's own Bare Naked Ladies. Coincidentally, the two brothers who formed Frightened Rabbit, Scott and Grant Hutchison also signed the guitar.
​A few weeks after the event HRC put on a dinner to thank some of the people involved and that's the night I met the FR band members. It was a fun evening; eating, drinking and chatting. I distinctly remember Grant and the guitarist Andy Monaghan explaining the band's song writing process to me in detail. It was fascinating. We also talked about my painting of 'Swim…', which I was surprised to discover they'd seen on social media. Grant mentioned that his and Scott's parents were interested in the artwork and so I got their address and posted a print to them a couple weeks later as a gift. I was absorbed in the conversation that evening but something stood out to me. The lead singer and songwriter, Scott seemed 'elsewhere', distant. I couldn't quite put my finger on it. The rest of the band was outgoing, talkative, and engaged. I couldn't tell if Scott was playing the 'reticent and aloof rockstar', if he was disinterested in my chat, or maybe he just didn't like me. I didn't know how to decipher him but whatever it was, I was very aware of it.

It's unsettling to know that one's perception and judgment of another person can be so terribly biased and simply wrong due to a lack of information.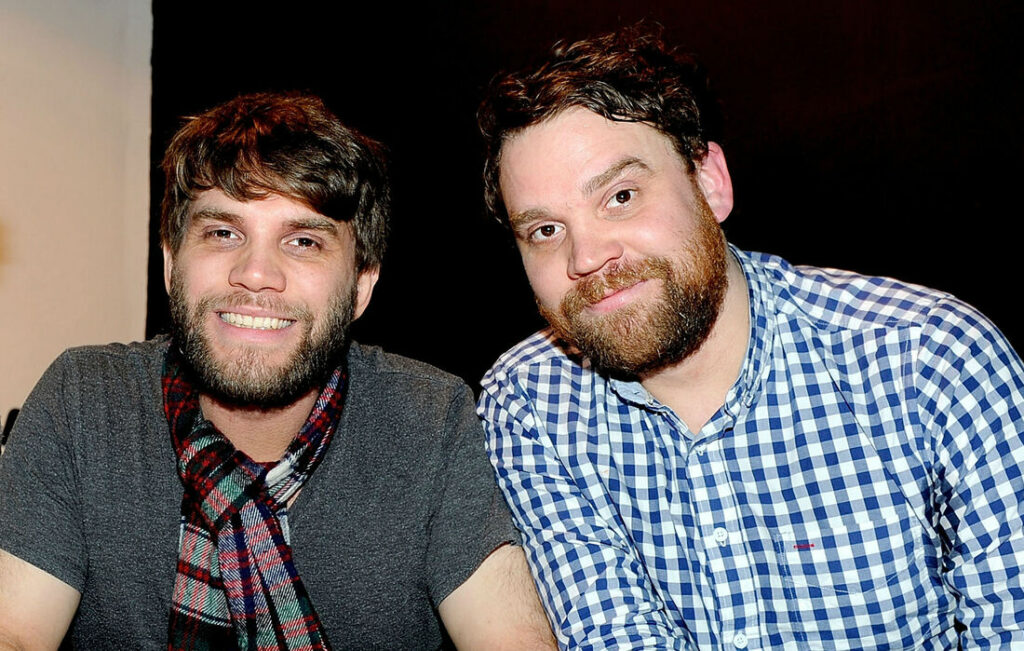 Move ahead seven more years. Thursday, May 2nd, 2018 Scott was found on the banks of the Firth of Forth in Port Edgar. He ended his life at the age of 36. His struggle with depression was well documented in his songs and in interviews. He wasn't afraid to talk about his fragility through his lyrics and yet this wasn't enough to help him through it.

When I found out what had happened, I was in shock. It really hit me hard and it brought me back to the evening we met and how I completely misread him. I didn't know Scott well; I didn't know him at all to be honest, but I wish so much that he and I had connected at the restaurant that night and we were able to talk about our battles with depression. ​Even though it's been more than 15 years since my own mental health issues I can still recall vividly how I felt then, which is crazy because I can barely remember what I had for breakfast yesterday. I described my state of mind to my GP at the time; it was like I was treading water out in the deep sea at night, struggling to keep my head above the shallow waves. There were times I'd wonder what would happen if I just stopped swimming. This hopelessness and despair would go on for weeks, even months at a time without any reprieve and this cycle in turn continued for almost three years.

All I wanted back then, more than anything, was to be able to talk to someone who'd struggled like I was struggling and who'd somehow made it out the other side. I never found anyone to speak with though because like so many men fighting with depression I didn't want anyone to know what I was going through. I'd deal with it on my own terms. ​I read an interview with Grant after Scott's death explaining that although his brother was open about his mental health issues, he wasn't so good when it came to talking about them in private. He said, "I think that's quite a common thing with people that suffer – they become quite good at hiding it." I know exactly what he meant by that.I wish I could have talked to Scott about it that night. I don't know what else to say. The only thing I know is that when I look at this painting, I mean REALLY look at it, my eyes still fill with tears.
I could go into great lengths about how my interpretation of Scott's lyrics influenced the making of this painting; the palette I used and why, the lyrics scratched onto the surface of it, or the sand and pieces of collage incorporated into it. I could talk in detail about the music 'All That Remains' that I chose for the NFT and how this affected the making of the animation. I could discuss how I feel the two artworks, the painting and the NFT, speak to me independently but how when understood and experienced 'as one' they're even more powerful.

But I've said enough. I'm not a writer, I'm a painter, and at the end of the day the artwork should speak for itself.
---
If you're feeling depressed please don't be afraid to ask for help. The best thing you can do is to talk to someone, especially someone who's been there. Feel free to message me any time. Additionally, below are a few organisations that can help. Trust me when I say that it does get better. It gets a lot better. It just takes time and some support.
---
www.samaritans.org

www.supportline.org.uk

suicidepreventionlifeline.org
---
​'Swim Until You Can't See Land'

I salute at the threshold of the North Sea of my mind
And I nod to the boredom that drove me here to face the tide
And I swim, I swim, oh swim

Dip a toe in the ocean, oh how it hardens and it numbs
The rest of me is a version of man built to collapse in crumbs
And if I hadn't come now to the coast to disappear
I may have died in a landslide of rocks and hopes and fears

So I swim until you can't see land
Swim until you can't see land
Swim until you can't see land
Are you a man? Are you a bag of sand?

Swim until you can't see land
Swim until you can't see land
Swim until you can't see land
Are you a man? Are you a bag of sand?

Up to my knees now
Do I wade? Do I dive?
The sea has seen my like before, though it's my first and perhaps last time
Let's call me a Baptist, call this a drowning of the past
She is there on the shoreline throwing stones at my back

Swim until you can't see land
Swim until you can't see land
Swim until you can't see land
Are you a man? Are you a bag of sand?

And the water is taller than me
And the land is a marker line
All I have is a body adrift in water, salt and sky