We are proud to present a carousel of amazing entertainments that will be taking place all around the castle. We'll be encouraging guests to explore, and on this page we'll give you a hint of some of the interesting people you might meet.
Clanadonia
We welcome Clanadonia to the Castle Party!
Scotland's hardest working tribal drums and pipe band will be firing up the crowd with their high-energy tribal rhythms. From the Commonwealth Games and giant festivals to city streets, TV and films, Clanadonia never rest in their mission to bring their combination of music, passion, culture and history to people of all walks of life and cultures.
Our guests are in for a unique experience!
Combat International
Our guests had better be careful, as we are expecting an invasion of sword-wielding medieval warriors, thanks to Combat International!
Combat International are dedicated actors and combat performers who have appeared in many films and TV productions, including Outlaw King, Outlander, Justice League and The Last Duel. They will be on hand for photo opportunities and we expect that a bit of fighting might break out – hopefully with each other, not the guests!
Combat International are currently working on their own in-house fantasy production Chaos Rising, which is being filmed in Duncarron medieval fort near Stirling and looks amazing – you can follow their progress here.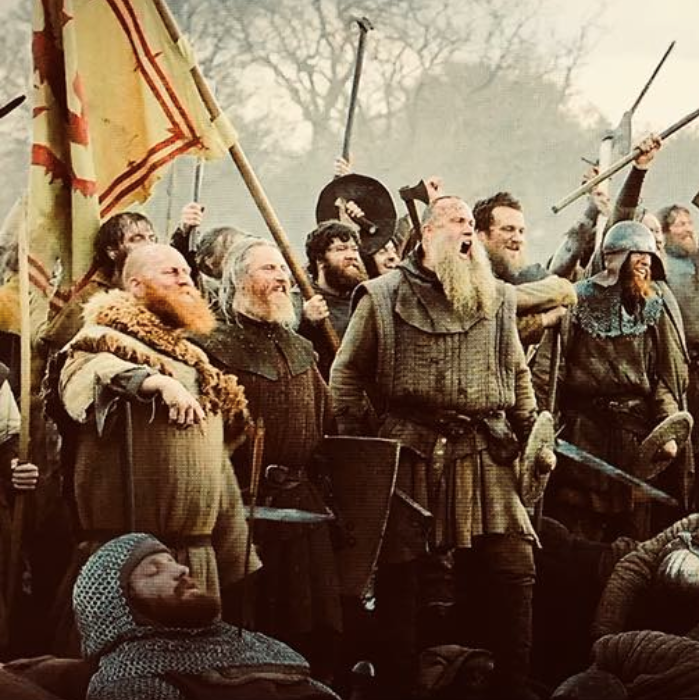 Jody Greig
From comedy card routines to mischief with money and mental mind reading, Jody Greig's high impact magic combines visual moments of astonishment with magic that happens in your mind and in your hands!
With a unique style of comedy magic, Jody's routines create magical moments of joy, laughter, and wonder. Entertainment that will forever be remembered!
As a former Software Engineer and Teacher of Computer Science, Jody became the first magician in the UK to start accepting Bitcoin and cryptocurrency as payments. He is currently working on new and exciting NFT magic memorabilia.
Dusty the Magician
Dusty The Magician is the only Scottish Magician to win the IBM close-up magician of the year award. He is a recipient of the Magic Circle Award of merit and has performed a 23-show run at the world's mecca of Magic, the Magic Castle in Hollywood Los Angeles.
A master of the magic scene for over thirty years, Dusty continues to innovate, constantly devising, producing and performing the most baffling, amazing and hilarious entertainment.
Neil Kempsell
We are proud to present Neil Kempsell, Scotland's top live caricaturist!
If you click the link to his website, you'll see that Neil has created countless brilliant caricatures of famous people from the worlds of sport, music, movies and politics. He has also drawn the guests of innumerable weddings, dinners and parties, as well as hundreds of tourists on Edinburgh's Royal Mile.
Now we are delighted to unleash Neil's talents on the guests of our Castle Party! Neil will be roaming the castle creating his brilliant caricatures of guests, which they can add to their goodie bags, giving a unique memento of their visit.
Mary Macmaster
The Scottish harp, known as the clarsach, is Scotland's oldest national instrument, with depictions of it carved on Pictish stones from the 8th century.
Mary Macmaster is well known for her pioneering work with the metal-strung clarsach and the fantastic Camac electro-harp. For the last thirty years Mary has been at the forefront of the revival of the Scottish harp, touring throughout the world with Sileas, The Poozies, Shine, Donald Hay, and award winning project Songs of Separation. Mary has collaborated with many wonderful musicians, including Scottish hero Dick Gaughan, Northumbrian pipe virtuoso Kathryn Tickell, English folk legend Norma Waterson, Joe Acheson's eclectic Hidden Orchestra, and Sting.
Mary will be bringing her beautiful music to our guests in the Queen Anne Garden and the Chapel.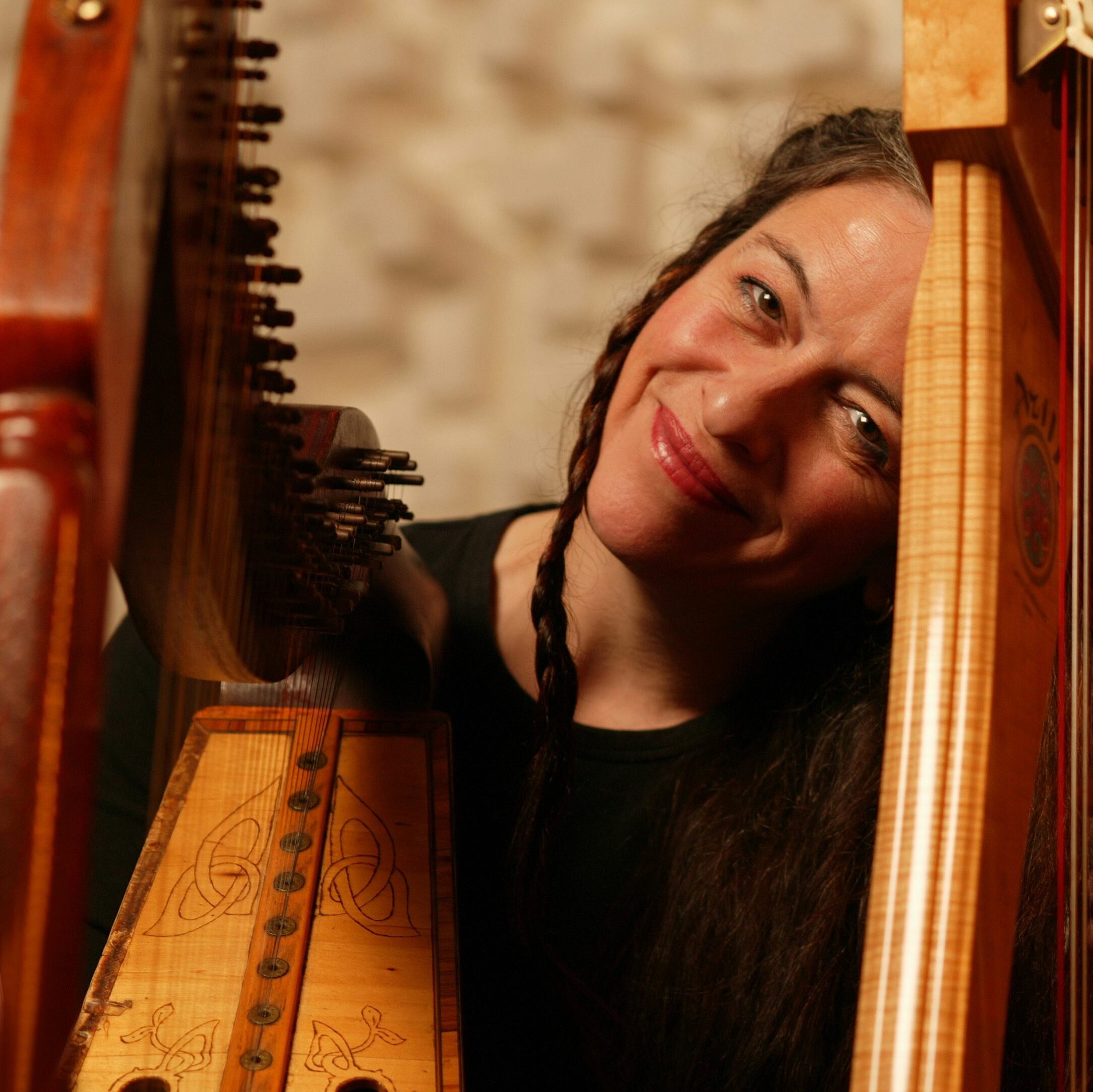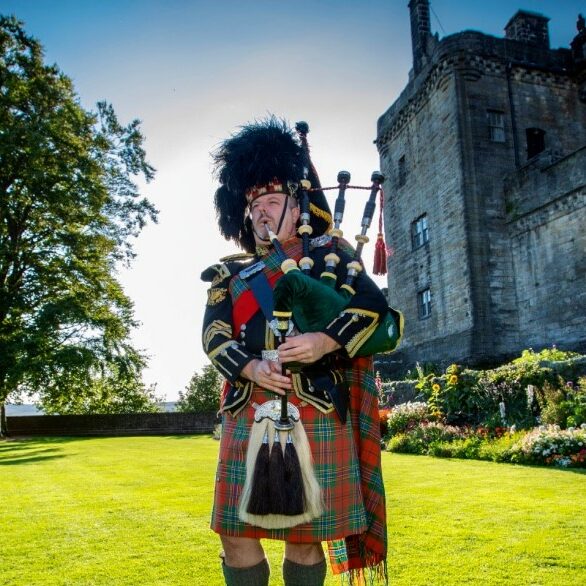 Kevin McLean
No event at a Scottish castle would be complete without a piper, and the Castle Party is no exception, thanks to Pipe Major Kevin McLean!
Kevin has performed at many of Scotland's premier venues and has had the pleasure of playing for a whole host of A list celebrities and famous sporting personalities from stage and screen. He has also played for many members of the Royal Family including HM the Queen herself over the years.
Kevin has played on many big stages throughout the world in concerts and festivals, which include the Lorient Interceltic Festival in France, the Nuiet de Celtic at the Stade de France, on the Great Wall of China and at President Mandela's presidential residence in Cape Town South Africa. Kevin loves nothing more than combining his love of piping along with performing Robert Burns's greatest works.
Living History Scotland
We are delighted to welcome several guests from previous centuries, thanks to Living History Scotland!
The country's best historical re-enactment group, they specialise in bringing the past to life with their beautiful costumes and extensive knowledge of history. They have brought their skills and knowledge to museums, castles, palaces and schools and have participated in over sixty television documentaries.
No strangers to Stirling Castle, you'll find them inhabiting the rooms of the castle's Royal Palace. Guests will be able to chat with them and find out what castle life was like in past times.
The Confessional Booth
Maybe you've made some unwise investments when caught up in the FOMO of the moment. Perhaps you've lost your nerve when a solid asset's value briefly dips. Or you may have jumped into the latest dubious PFP project because someone on Twitter told you to.
None of us are perfect in the crypto world, but there are some sins we just don't like to admit to in public. At the Castle Party we offer you the chance for forgiveness of your crypto-crimes. In the castle's Chapel you'll find a confessional booth manned by a clergyman, who will hear your errors in confidence and offer absolution.
Don't miss this unique opportunity to unburden your soul!