Archangels
In 2022 trevorjonesart is exploring new celestial planes. From the heavenly spheres of the Ascended Angels to the fiery plummet of the Fallen Angels to the inaugural Castle Party in the historic Stirling Castle, we are soaring to ever greater heights on pearlescent wings.
Of course, we are not achieving all this alone. We are honoured to be accompanied by a loyal group of friends and fans who believe in Trevor's vision and are always eager for the next drop. Trevor's art has created an incredibly strong and loyal community, and the success of trevorjonesart would be impossible without them.
We are therefore pleased to announce our loyalty programme for the most dedicated supporters. Angelology has traditionally held that there is a host of especially devoted angels, and after it we have named this scheme The Archangels.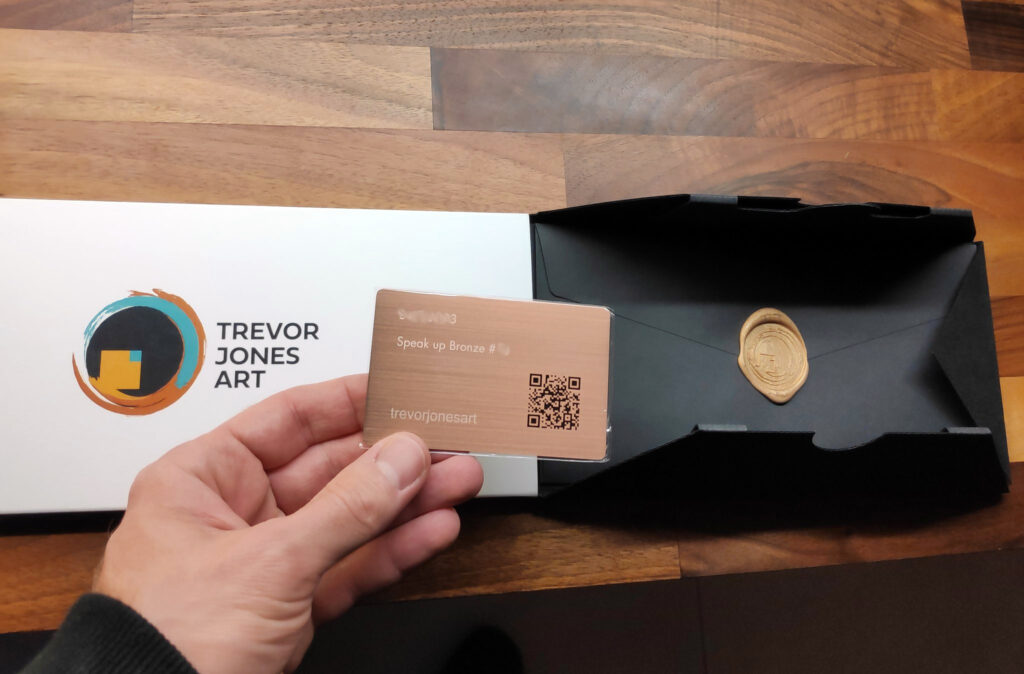 The Archangels loyalty programme is open to all holders of Trevor's bronze, silver, or gold NFTs, including the Ascended Angels, the Bitcoin Bull special editions, and the Man Vs Machine special editions. Each member receives a beautiful metal membership card in a specially-designed display wallet, each card stamped with a unique code. Please do not share your unique code # with anyone. If your card is lost, notify us, and the card can be replaced for a small charge of $10.
All Archangels members can use their unique codes to access some exclusive benefits, including:
Discounts on a range of Trevor's prints and merchandise:

Bronze NFT holder 5.77% discount

Silver NFT holder 7.77% discount

Gold NFT holder 10.77% discount

Priority access for all limited-edition merchandise.
Priority access to a very limited edition of 21 Bitcoin Angel bronze sculptures, which are linked to their own NFTs. These are another 'First' in the crypto/NFT art space and are spectacular pieces that will undoubtedly become highly sought after collector's items. More information about the bronze sculptures coming soon. Sign up to my newsletter or join my Discord to keep up to date.
Additional benefits for Ascended Angel holders:
Priority access to tickets for all annual Castle Parties from 2023 onwards. Gold Ascended Angel holders are given priority to secure their place, then Silver followed by Bronze. Afterwards, the Castle Party tickets will be opened up for Bitcoin Angel open edition holders.
At Castle Parties, each Gold Ascended Angel holder can invite up to 3 guests, and Silver and Bronze Ascended Angel holders can invite 1 guest each.
We welcome all the founding members of this new club and look forward to a long and epic journey with you. This is just the beginning!