Photo: Julien.scavini, CC BY-SA 4.0 , via Wikimedia Commons
Stirling Castle, Scotland, July 30th 2022, 6:30 pm - midnight

Since it arose from the mists of the early 12th Century, Stirling Castle has stood at the centre of momentous historical events. William Wallace and Robert the Bruce seized the Castle back from invading English armies in the 14th Century Wars of Scottish Independence. In the 16th Century, the infant Mary Queen of Scots was crowned in the Castle's Chapel Royal, beginning her doomed reign. During the Jacobite Rising of the 18th Century, Bonnie Prince Charlie's Highland army laid siege to the Castle. And in the year 2022, history will be made once more, as trevorjonesart hosts a grand Castle Party for crypto enthusiasts and Bitcoin Angels.

FYI: The Castle Party is now fully booked with 400 guests registered.
​If you would like to attend please email [email protected] to add your name to the waiting list.
To attend the #CastleParty2022 guests must own at least one Bitcoin Angel NFT. You will need two angels if you would like to bring a +1. The Castle Event's coordinator has told us that children 10 and over will be allowed to attend if accompanied by a responsible adult.
As you can imagine, it's very time consuming, complicated and expensive organising a castle party. One of the major issues is the max capacity of 400 guests, which brings about its own set of problems as there are more than 2,200 angel holders. I need to ensure that the people who say they'll be attending have the time and resources to make the trip, which is why there will be a fully refundable deposit needed to secure your entry.
It would be a real shame and completely unfair if half the people who say they will be attending don't show up thereby taking places away from others who could have made it. I'm also organising the catering and drinks for 400 people so I really would like the max to attend.
To ensure the most exclusive crypto event of 2022 rolls out properly a 100% refundable deposit of $777 or equivalent in £ Pound Sterling £ (ETH or bank transfer) will be required.
Your $777 deposit can also be exchanged at the party for a special edition NFT. If you have 2+ angels and you're bringing a guest (including children), deposits for each is required and you can receive NFTs in exchange for each deposit.
Your deposit will be refunded or your NFTs minted within 4 days after the party. If you pay the deposit in ETH you will be refunded the same amount in ETH. You can also pay the deposit by bank transfer and you will be refunded equally in dirty fiat.
This unique NFT will be made available only at the castle party, therefore a maximum of 400 created and quite likely a lot fewer. Only those who attend will be able to claim one.*
* Members of the Bitcoin Angel community who hold 10+ angels will have the opportunity to buy a special edition NFT for $777 even if they are unable to attend. This added benefit for these devout supporters will continue to #CastleParty2024 and beyond.
If you pay the deposit to secure your place and you're unable to attend the party, you will be refunded 100% if you notify me before June 15th. Cancellations after this date will be refunded 60%.
Once all 400 spaces have been filled we will set up a waiting list. If you paid a deposit but unfortunately need to cancel after June 15th and we can find a replacement, you will be refunded 100%.
Giveaways on the night of the event will include two of my original paintings with one being created especially for the castle party and the unique NFT. Framing and worldwide delivery of the artwork is included.
I will also give away 7 Bitcoin Angel NFTs on the night. At least four will go to castle party attendees and the other three will be given away in a draw to anyone who owns an angel, even if they're not at the event.
​There will be more giveaways for people attending the castle party and these will be added here as we continue to organise the event. I'm sure there will be at least a few bottles of whisky up for grabs!
Currently attendees will receive:
1+ Angel holders

A limited edition Bitcoin Angel t-shirt

Bitcoin Angel 'Castle Party 2022' limited edition, signed print (luggage size in tube)

A goodie bag of swag

Bronze Castle Party 2022 NFT (with $777 deposit)

Ticket to win an original TJ painting

Ticket to win the original oil painting created for the Castle Party NFT

Ticket to win an 80 x 60 cm Bitcoin Angel print

​Ticket to win a 120 x 90 cm Bitcoin Angel print

Ticket to win an 80 x 80 cm Ice Cube collab print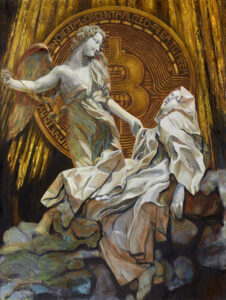 10+ Angel holders will receive in addition to 1+ benefits

Silver Castle Party 2022 NFT (with $777 deposit)

A signed 80 x 60 cm Bitcoin Angel print (only 65 in existence)​​

20+ Angel holders will receive in addition to 1+ and 10+ benefits

Gold Castle Party 2022 NFT (with $777 deposit)

A signed, 80 x 80 cm limited edition print of an Ice Cube collab painting

Note: Silver and Gold NFTs will only be given to the holders of 10+ or 20+ angels. Their partners will receive a bronze NFT unless they also own 10+ angels.

NOTE: as exceptional supporters of the Bitcoin Angel, 10+ and 20+ Angel holders will be able to purchase the Bronze/Silver/Gold* NFT (see above for distribution) for $777 each even if they are unable to attend the party. However, only those who attend the party will receive the physical limited edition prints, T-shirt, goodie bag, enter the draw for the physical oil paintings etc.
This Gold and Silver NFT benefit will continue to #CastleParty2024 to reward those who are the biggest supporters of the Bitcoin Angel.
We welcome Clanadonia to the Castle Party! They are Scotland's hardest working tribal drums and pipe band and their members have been entertaining for over 20 years with countless credits in stage, screen, radio and TV.
Their high energy blend of tribal rhythms, bagpipes and tartan clad mayhem has wowed audiences across the globe.​
Tu-Bardh was part of the close combat stunt crew for the films Gladiator and The New World and also took part in the Lee Hutcheon film The Clan.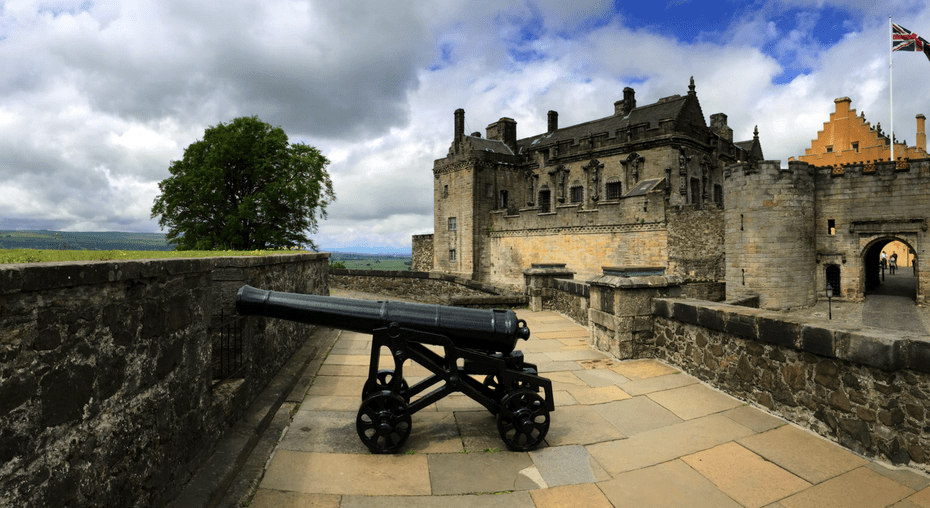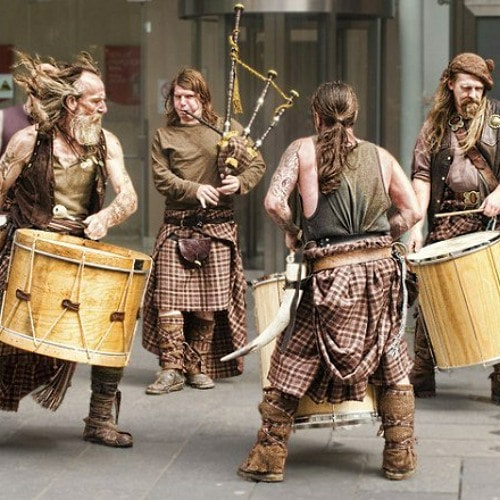 Details coming soon including how to get here.